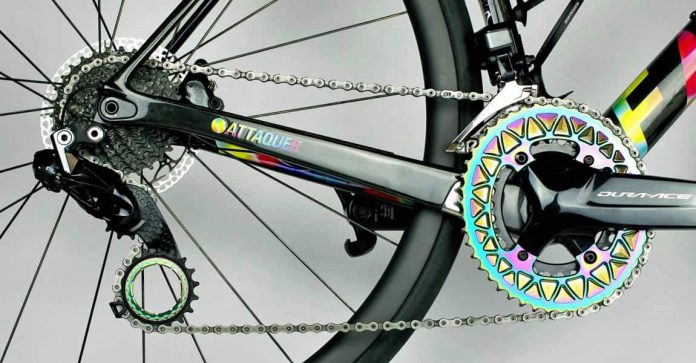 AbsoluteBlack the UK based company specialized for bicycle components recently showed another clever and innovative component upgrade for rear derailleur. It is expensive oversized pulley wheel system (OSPW) with eye catching design, incorporating a variety of patent pending solutions.  
Oversized pulley wheel systems (OSPW) 
Oversized pulley wheel systems (OSPW) are designed as an upgrade on stock rear derailleurs on bicycles, with the idea to further achieve marginal performance gains. This is generally the case with current OSPW's on the market, all of them carrying similar designs and characteristics: low friction bearings, reduced chain tension and chain articulation through the tight bends of the rear derailleur.
HOLLOWcage Carbon Ceramic oversized derailleur pulley cage – what is different and innovative? 
HOLLOWcage Carbon Ceramic has a strikingly new look and carries a revolutionary mono-plate design. This a rather weird looking pulley system with its "new age" design is stamping the dawn of a new era for rear derailleurs.
According to AbsoluteBlack the HOLLOWcage Carbon Ceramic is super silent pulley, saves watts and is most aero friendly pulley cage on the market.
Lets make HOLLOWcage Carbon Ceramic review, take a note on the patent pending solutions incorporated and dive deep onto why and how HOLLOWcage from AbsoluteBlack is different from competition and regular rear derailleurs.
HOLLOWcage is a mono-pate pulley design using bespoke oversized full ceramic bearings. AbsoluteBlack uses carbo fiber-polymer matrix, aluminum and rubber for its construction giving total weight of just 71 grams. This mono-plate design made from carbon-polymer material, covered with dimples for further aero gains is one of the pending patent design solutions.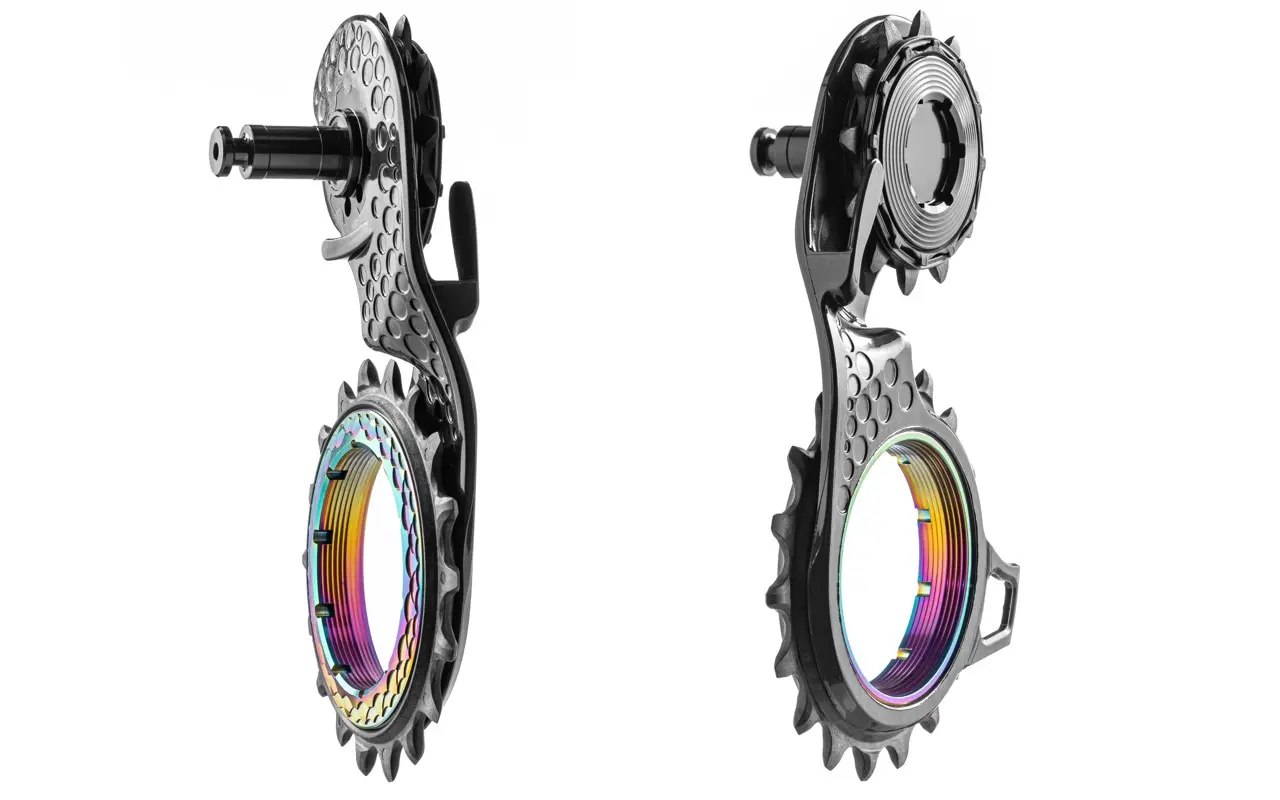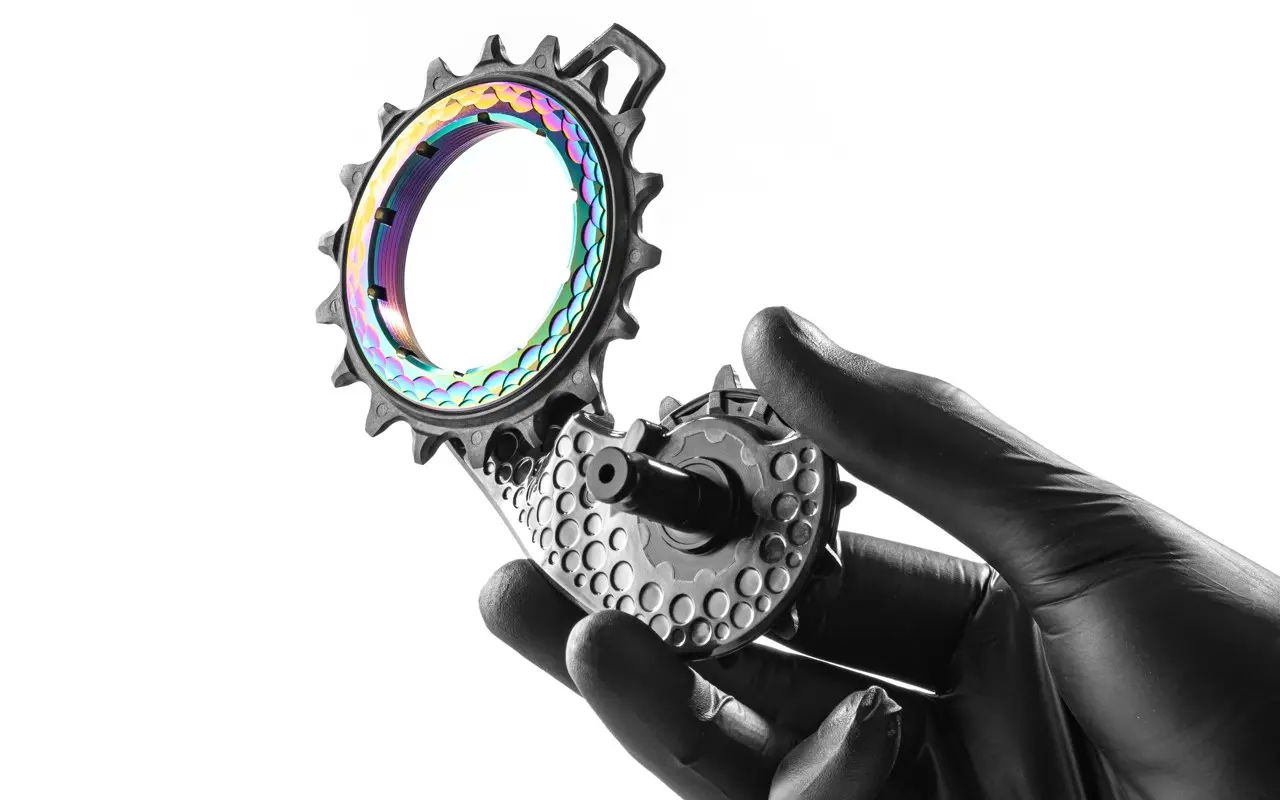 The second patent solution is XRing Pulley. AbsoluteBlack claims it is the most silent pulley ever created, enabling noise reduction of 12 to 14 dB. This advance silencing is achieved thanks to special XRing rubber suspended bands that dampen the chain impact on the pulley teeth.
AbsoluteBlack states that "this movement is the single biggest contributor to overall drivetrain noise".
Further gains by loosing less watts is possible because of the flexibility of Oversized Pulley Wheel Systems. OSPW is allowing the cage (especially lower pulley) to better align with the chain angle during usage of the higher gears on the cassette.
So flexible lower pulley means less friction against the chain, consequently less watts loss. On the mono-plate design one part of the cage construction is eliminated and mono-plate cage can dynamically adapt to the chain angle.
AblsoluteBlack base their claim that HOLLOWcage is the most efficient design by connecting the dots of their way of thinking, with flexible lower pulley comes really stiff upper pulley.
This is paramount for better shifting because according to AboluteBlack the stiff upper pulley is enabling gear change by moving chain left or right on the cassette, and its much better solution than stiff shifting cage. Really large bespoke full ceramic bearings on HOLLOWcage is what makes the pulleys incredibly stiff.
Another improvement and differentiation from common oversized pulley systems are tall teeth on HOLLOWcage. This tall teeth profile move the chain more effectively than shallow teeth on other OSPW's.
All of this characteristics on HOLLOWcage design is allowing lower spring tension than any other pulley cage from competition without compromising seamless shifting.
Watt savings through aero gains is thanks to HOLLOWcage unusual and at the same time strikingly modern design with dimples on carbon-polymer material for further aero enhancement.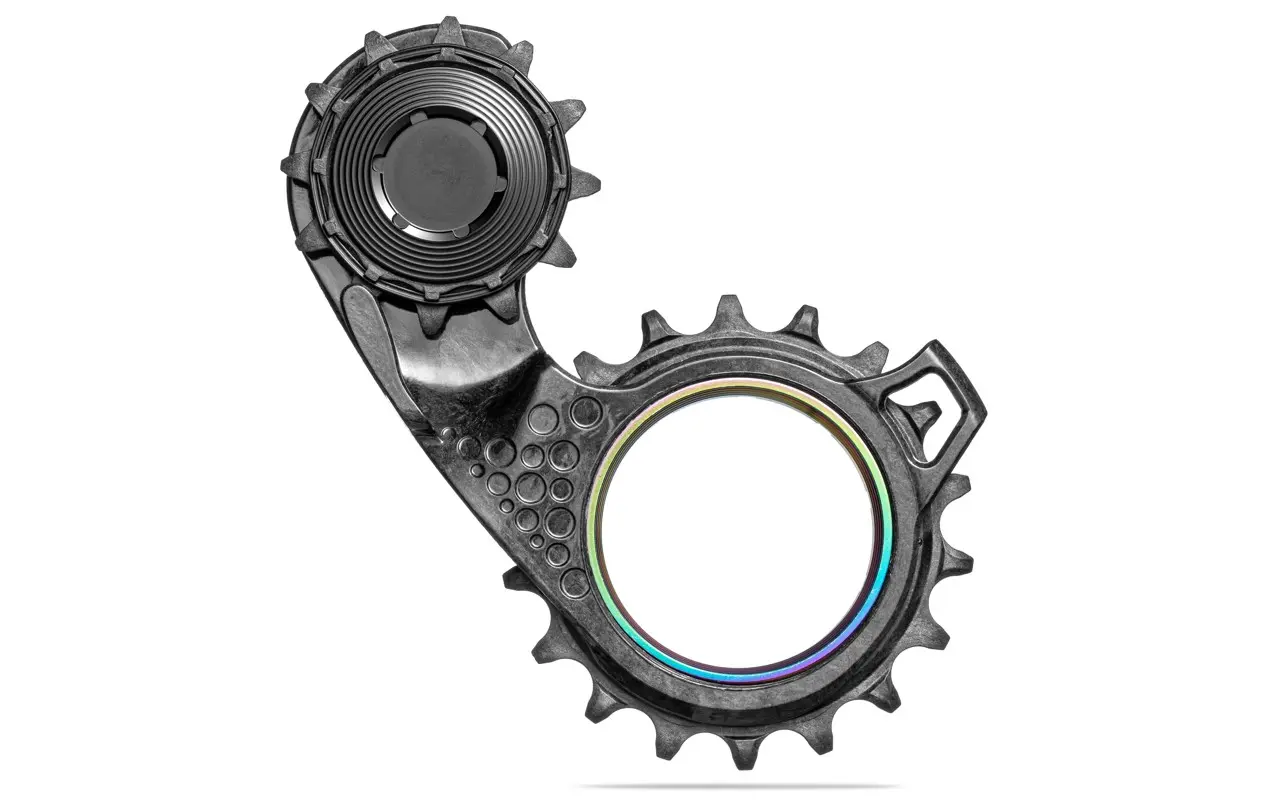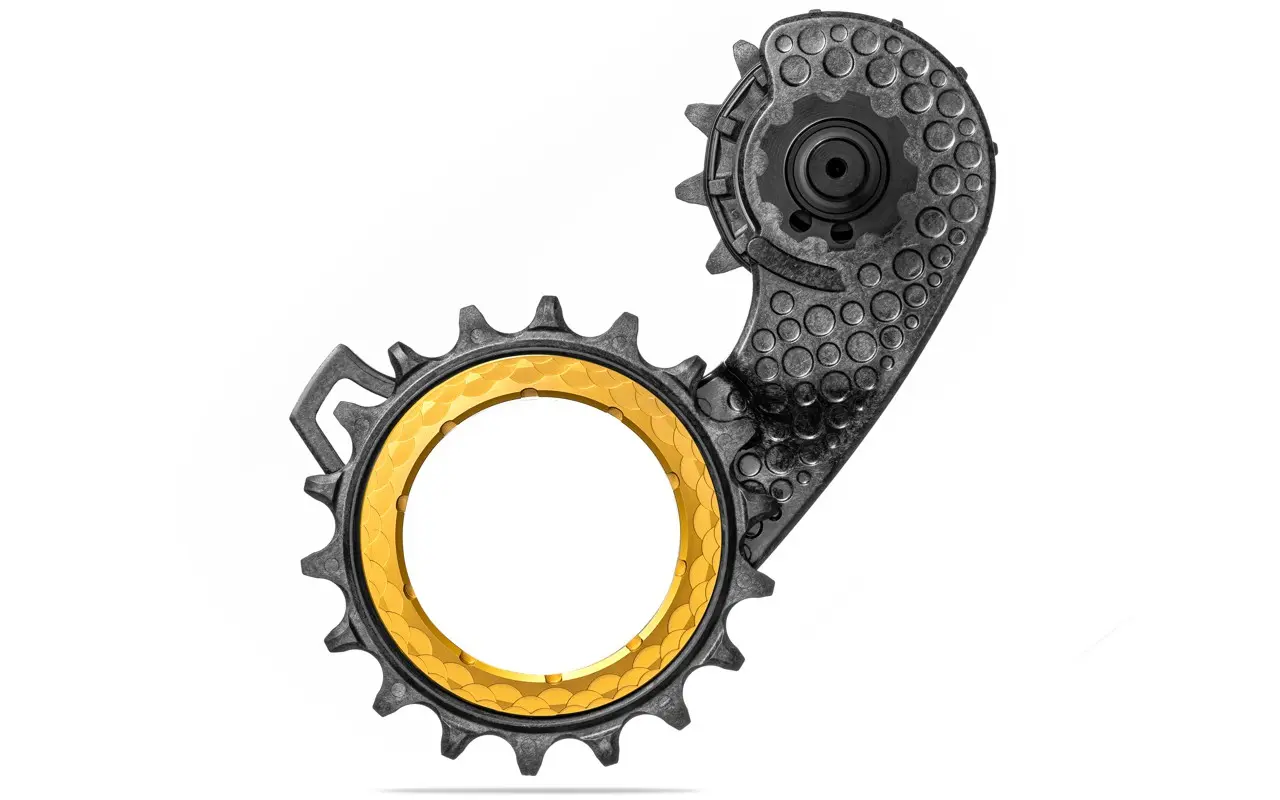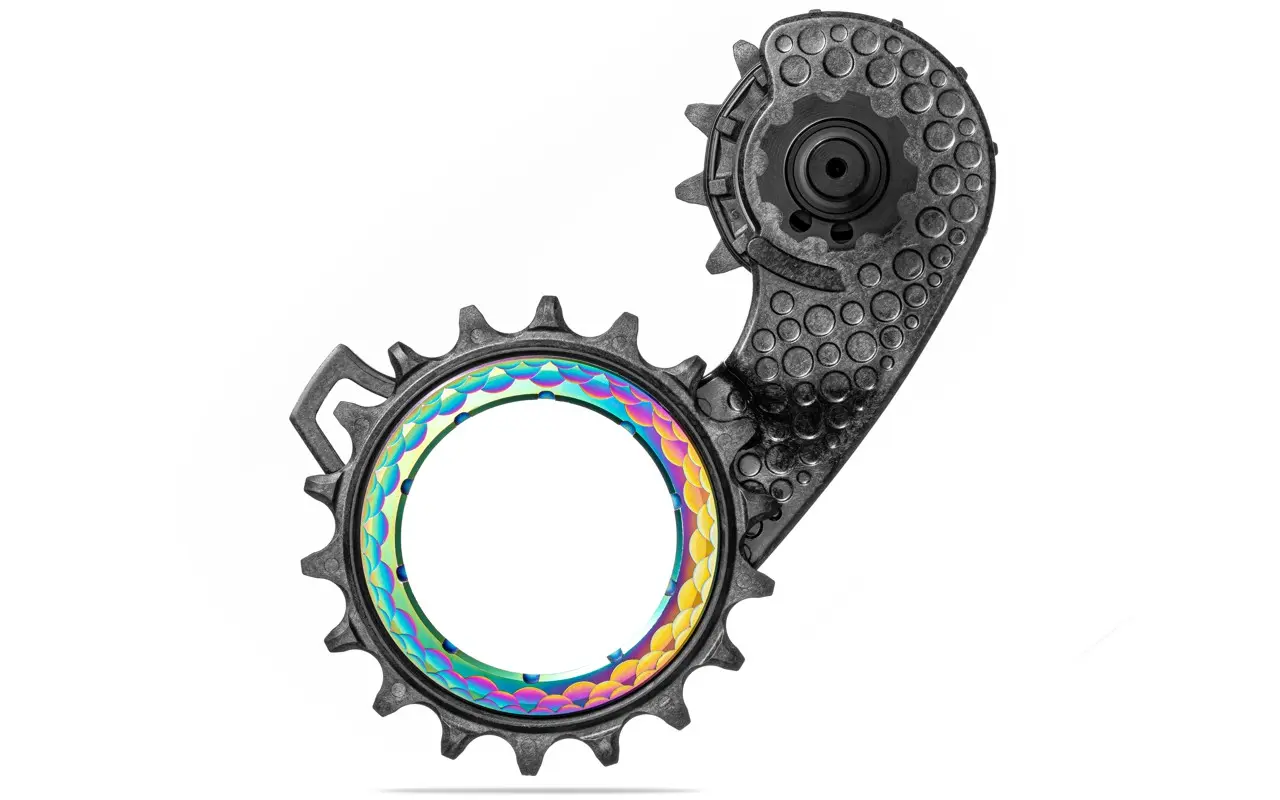 While HOLLOWcage price tag is really high (699$) and should be taken into account, performance chasing for cyclists and racers never stops.
General Specifications and info
Size(Mass+/-1g):     71g
Color                          Lower lockring: PVD Rainbow, Black, Titanium, Red, Gold
Materials used          Carbon fiber-polymer matrix, 7075 Aluminum, rubber, ceramics
Compatibility            Shimano Dura Ace 9100 / 9150 / 9170 , Ultegra 8000 / 8050.
In the box                 Complete cage, lockring tool, 2x spare xring rubbers