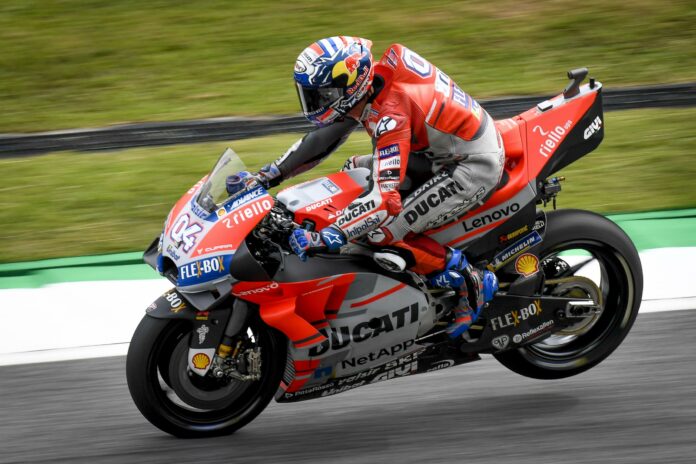 The premiere motorcycle racing series is a perfect venue to test and promote the high performing, reliable and safe motorcycle components. Brake systems for MotoGP and it's feeder categories Moto2 and Moto3 provided by Brembo are comprised with ultimate high-tech components, developed through the vast racing pedigree by Brembo.
It is fascinating, all the brake calipers, carbon discs and pads, brake master cylinders and friction master cylinders are offering a range of technical solutions. In a way assisting Brembo to give riders the opportunity for customized brake system based on individual style, track layout and racing strategy.
GP4 – a reference caliper
Machined from solid piece aluminum with radial attachment and four pistons, GP4 i a new monobloc aluminum caliper widely used by the MotoGP riders. The GP4 caliper is extensively innovative and extreme design.
Externally the eye catching is the presence of fins, internally one of the innovative elements is the amplified caliper with anti-drag system, this system allows the rider to amplifies the braking torque.
During braking action the rider generates a force that is added to that created by hydraulic pressure of the brake fluid on the pistons.
Anti-drag system allows to strongly reduce the residual torque. This is done thanks to spring device which helps the contact between pads and discs to be avoided when there is no pressure in the system. This way the formation of unwanted force that tends to unintentionally slow down the bike is gone.
Brake discs 
MotoGP riders are choosing between six different discs diameters and two carbon material specifications, High Mass and Standard Mass. Usually riders are split between High Mass and Standard Mass, and 340 mm and 320 mm discs.
Ventilated carbon disc with 355 mm is added to the range by Brembo and it is designed for circuits with heavy braking zones. This new ventilated carbon disc has precision-controlled ventilation that keeps the disc cool by increasing heat exchange.
Brembo's carbon composite discs main advantages are: a reduction in unsprung mass, constant friction coefficient and absence of the residual torque issues associated with steel discs.
Brake master cylinders
Different types of brake master cylinders are used on a MotoGP bike, they differ in terms of wheelbase and they boast the rider feel by adapting the reactivity of control.
Each bike in MotoGP features remote adjuster with whom riders can adjust position of brake lever while the bike is moving.