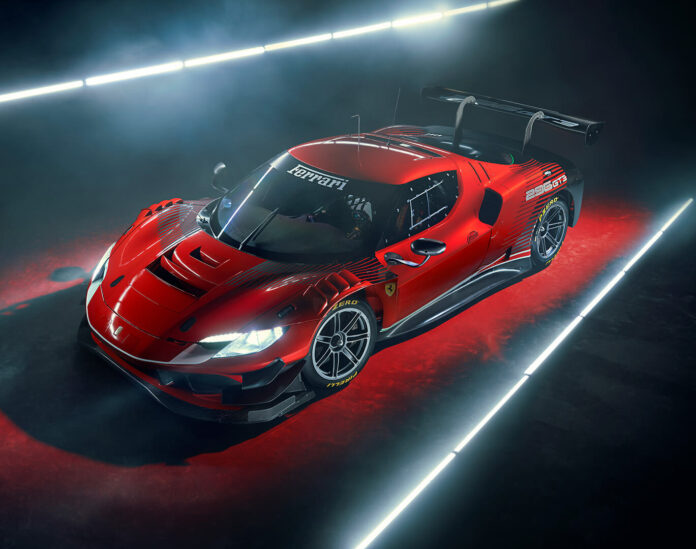 Ferrari 296 GT3 is a diligently detailed GT3 costumer racing car to keep the winning flag from it's predecessors. Taking over direct legacy from Ferrari 488 GT3 the new GT3 challenger is inspired from the past and developed to extremes for the future, Ferrari 296 GT3 will race on the most challenging tracks for sportscar racing.
Design 
Ferrari 296 GT3 is based on the Ferrari 266 GTB, it has recognizable and stylish Ferrari lines, upgraded by racing features and aerodynamic devices. The bodywork is a perfect blend between sculptural, elegant shapes and technical, aerodynamic bits that enhance the GT3 racing machine.
Interior of the Ferrari 296 GT3 fulfills all the racing driver needs. It is giving the impression of a sports and spartan look, at the same time showing all the high-tech bits and controls needed for modern GT race car. According to Ferrari the driver position and his instruments and commands being always within reach was essential during design process of the interior. The most notable sight in the interior is the Formula 1 styled steering wheel with a lot of controls and functions on it. Visibility, accessibility, safety and comfort as a necessary elements in endurance racing are taken into account.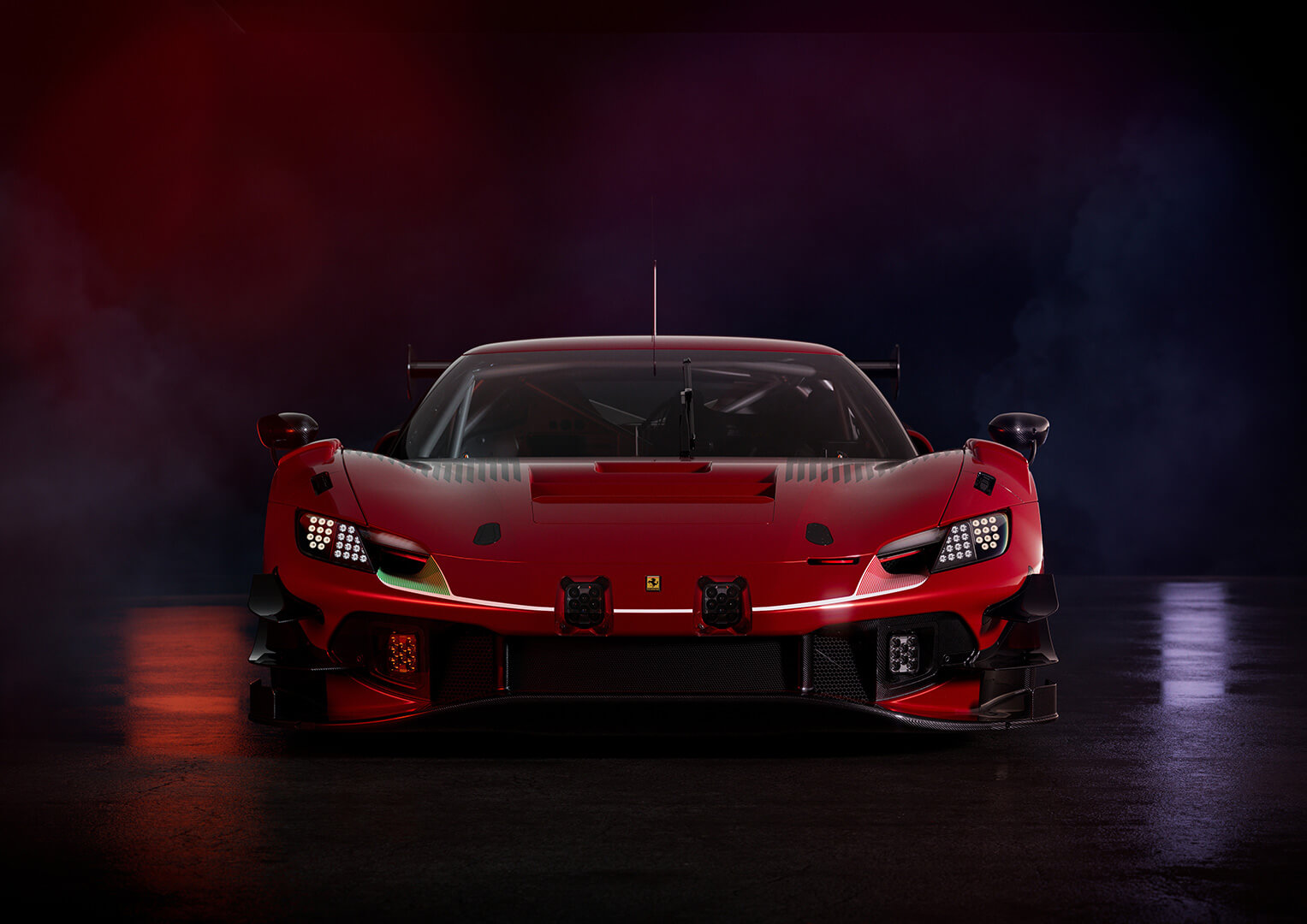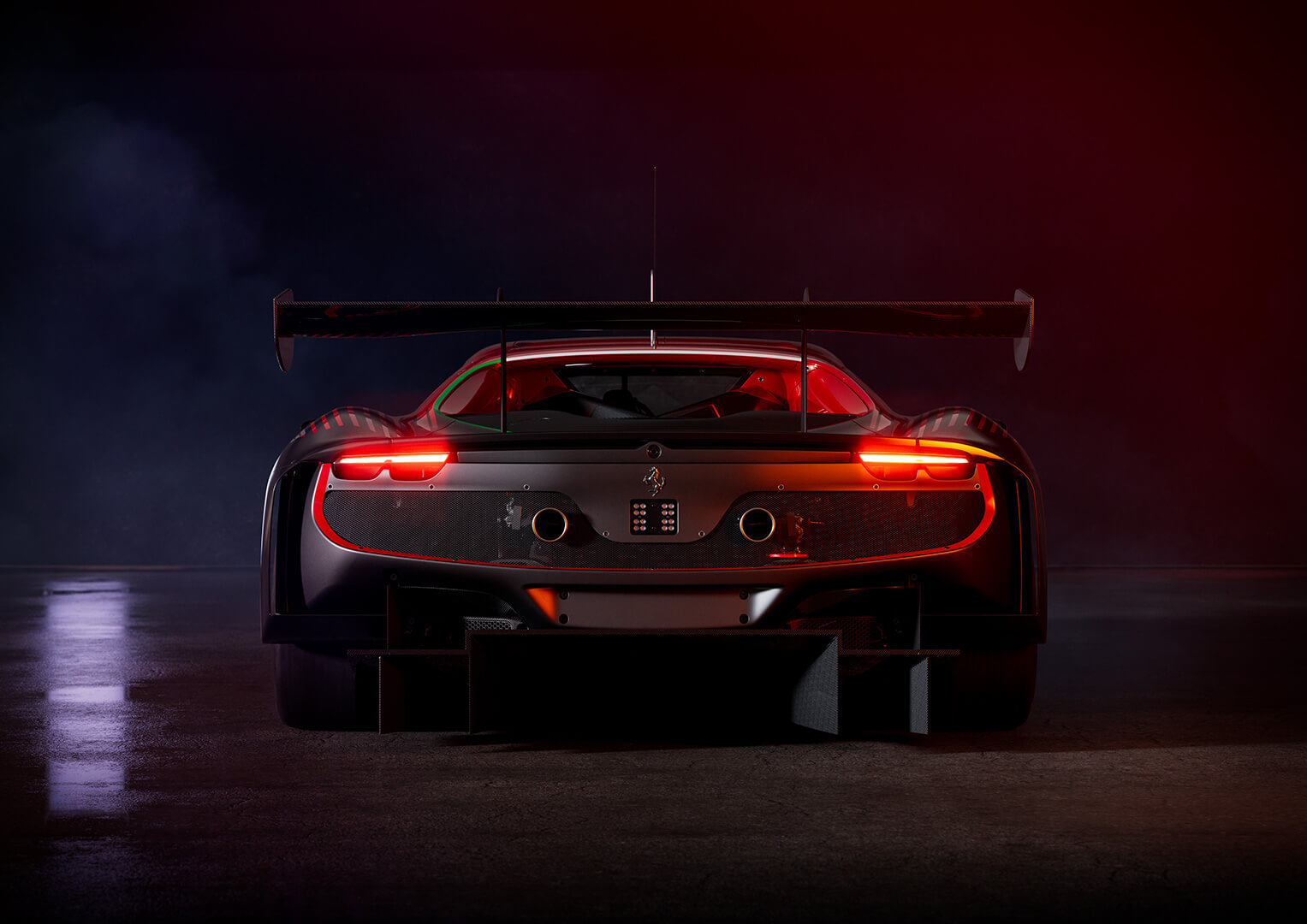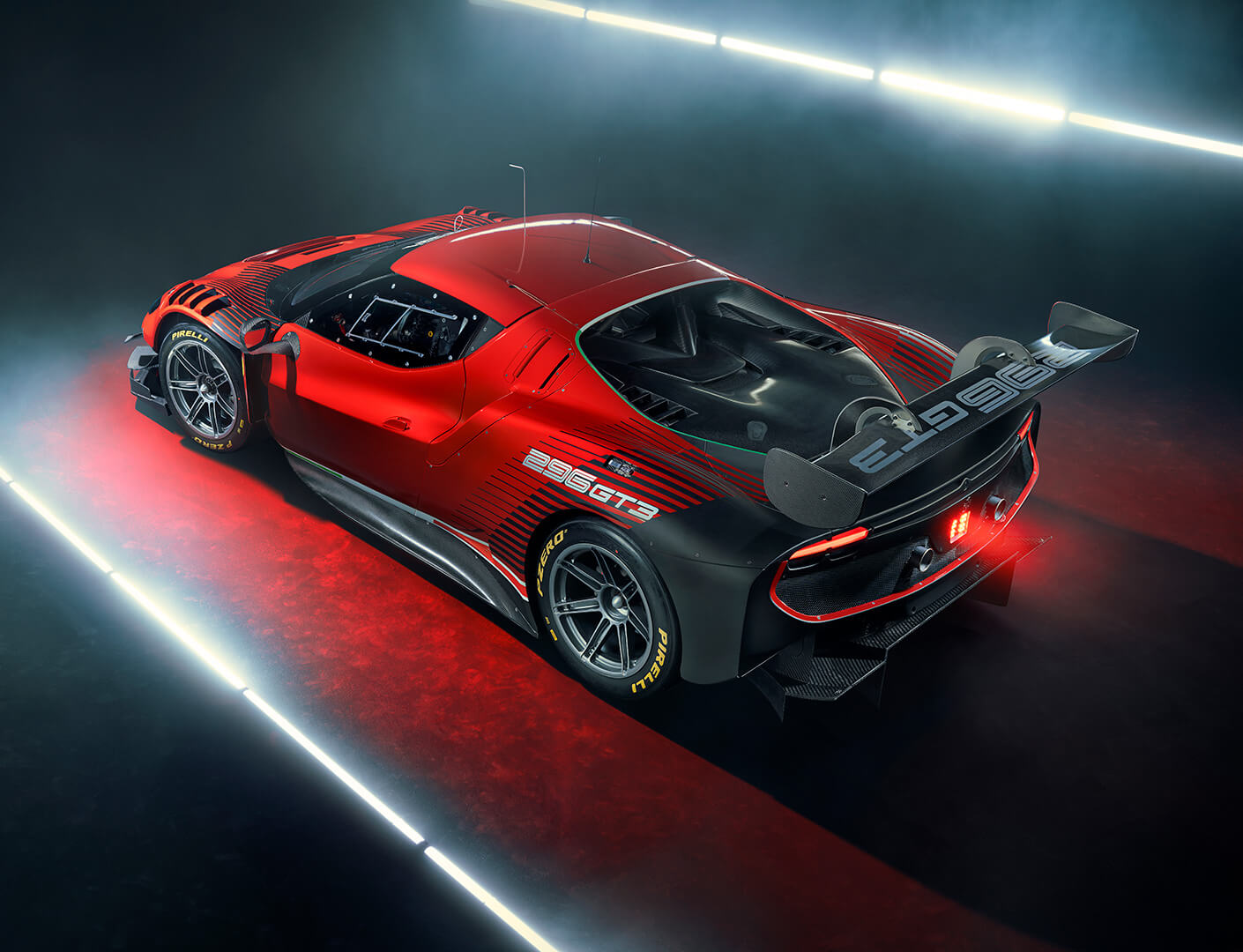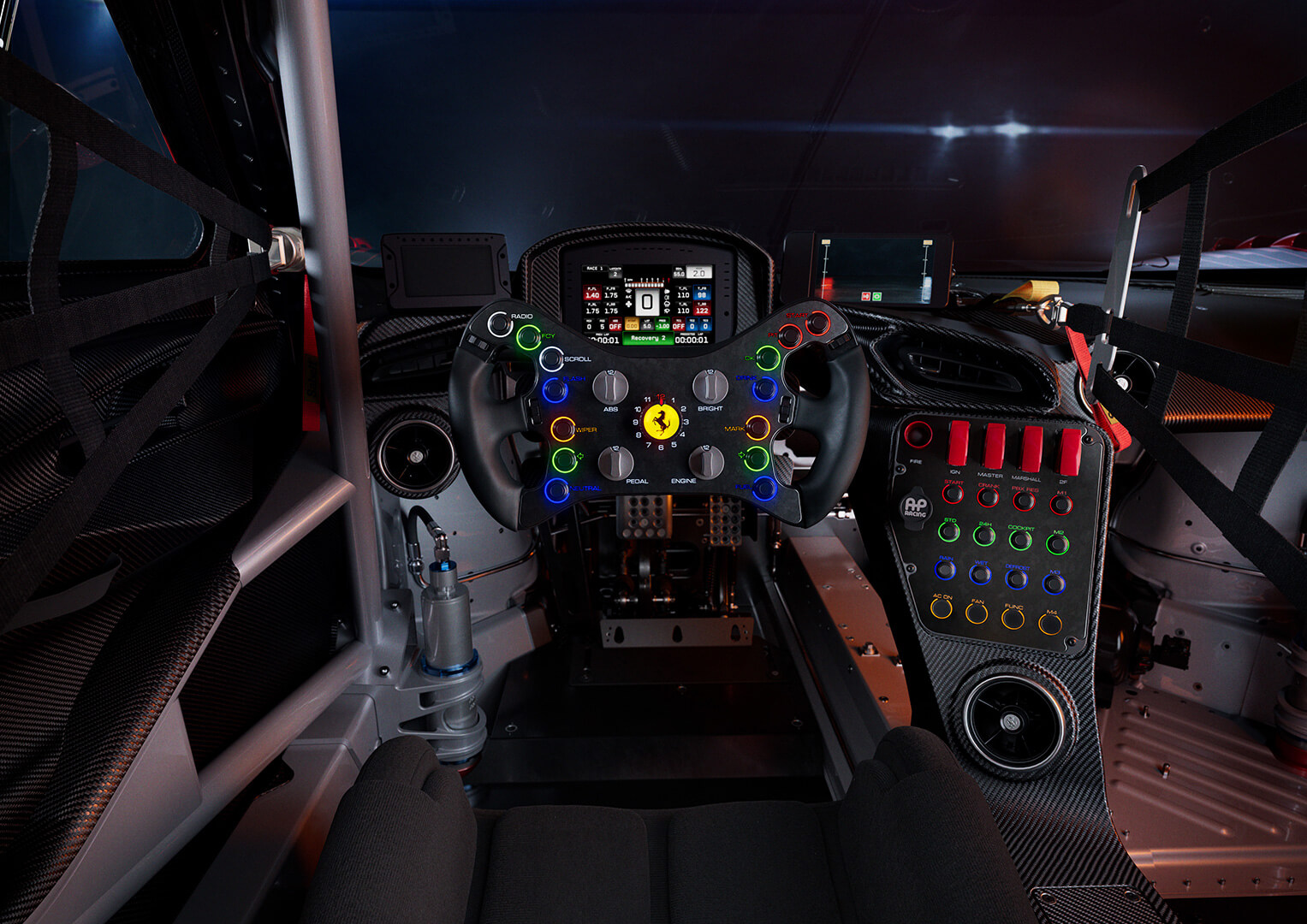 Aerodynamics 
For better drivability and driver confidence a very detailed work has undergone on the Ferrari 296 GT3 aerodynamics. This new Ferrari GT3 racer produces 20 percent more downforce than its predecessor. The challenge that designers met regarding the generated aerodynamics is reducing displacement of the downforce at the front end by 20 percent and at the rear end by 40 percent for a given variation in rake. All the work done on the aero has been calibrated with sophisticated CFD simulations, supported by advanced systems and wind tunnel so every possible operating condition is covered. Whole 296 GT3 chassis is a brand new design adopted for racing on various circuits, to be easy and fun to drive.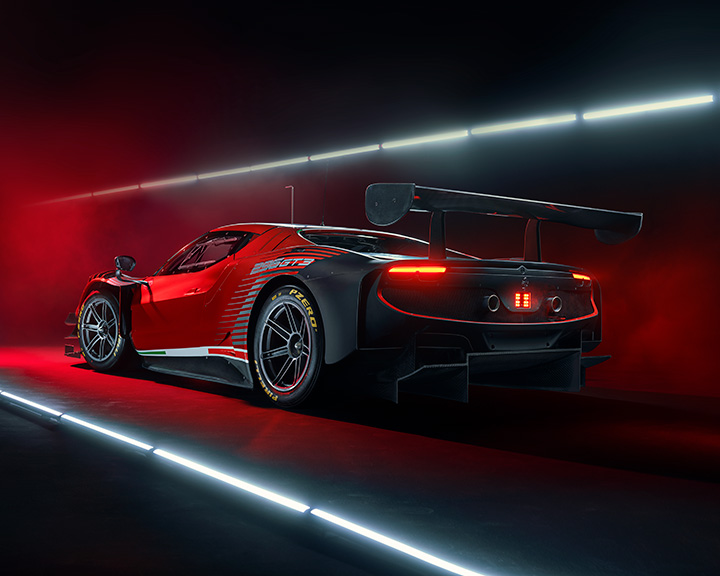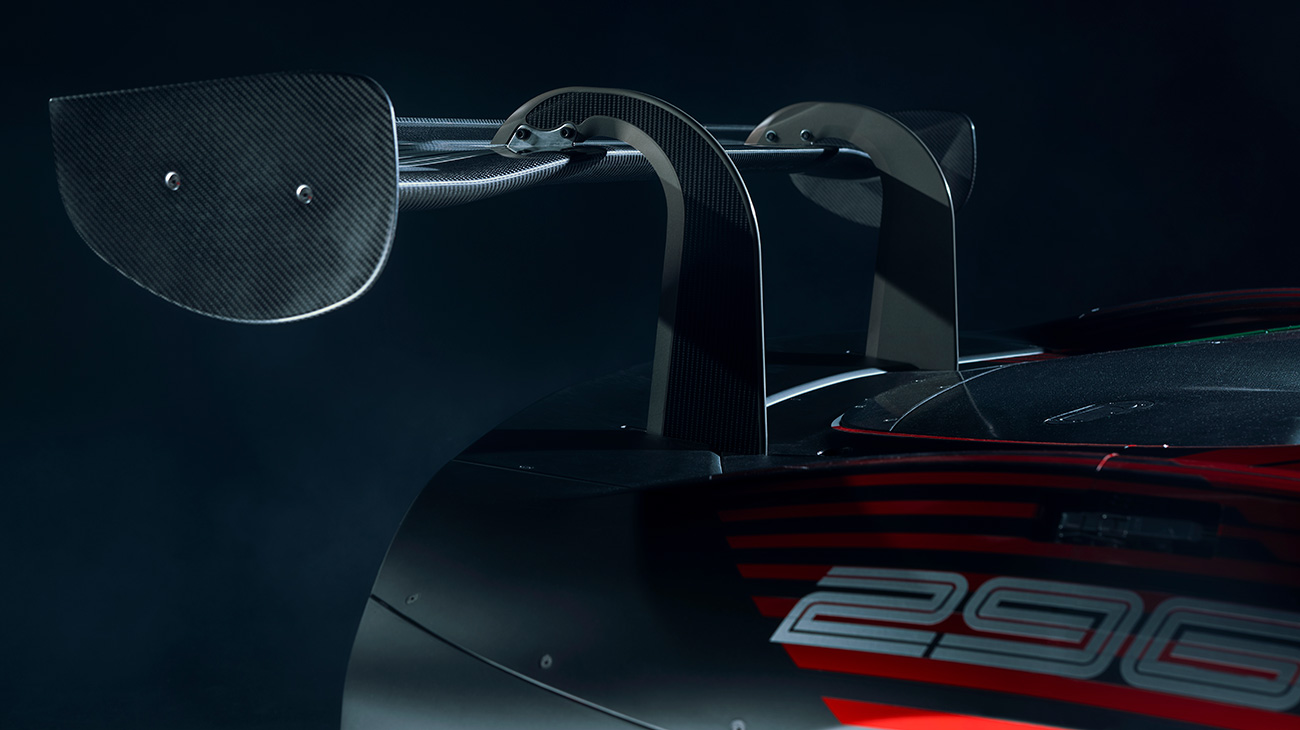 Safety 
Safety structure is carefully designed, incorporating innovative technologies, research and simulations. Ferrari 296 GT3 has efficient ballast management, with whole car body being carbon-fibre except the aluminum roof.
Suspension and Brakes 
The suspension system on 296 GT3 is also new, completely reworked design to 488 GT3 model, featuring longer wheelbase. For a better handling without penalizing tire wear, consistency and performance a new double wishbone suspension design is made, with wide range of possible settings, to provide the drivers with best setup.
Braking system is also upgraded with newly designed calipers and discs (400 mm disc size at the front with 6 calipers and 4 calipers at the back).
Engine and transmission
The heart of the Ferrari 296 GT3 is the 6 cylinder, 3.0 liter twin turbo engine with 120 degree vee angle. The turbos being placed inside the increased vee engine angle gives the car compactness, lower center of gravity and reduced mass. This new engine architecture achieves high power levels, with improved firing order, new integration of the intake manifold and engine mounts in the intake sides of the cylinder heads. Also a lot of Ferrari expertise and know-how is implemented in dimensioning and design of the various engine components and materials, it has Ferrari's latest combustion chamber developments, the symmetrical counter-rotating turbos giving instantaneous power delivery.
For reduced intervention time the alternator is attached to the gearbox, which improves unit compactness and rigidity, also making it easier for technicians and mechanics to access.
Ferrari 296 GT3 has a 6-speed sequential gearbox unit with single disc clutch specially developed for this car. Clutch actuation is electronic, controlled from the steering wheel, also it has electrically activated gear change. For the whole X-trac gearbox architecture Ferrari uses premium materials, this way generating performance by further lowering gearbox weight.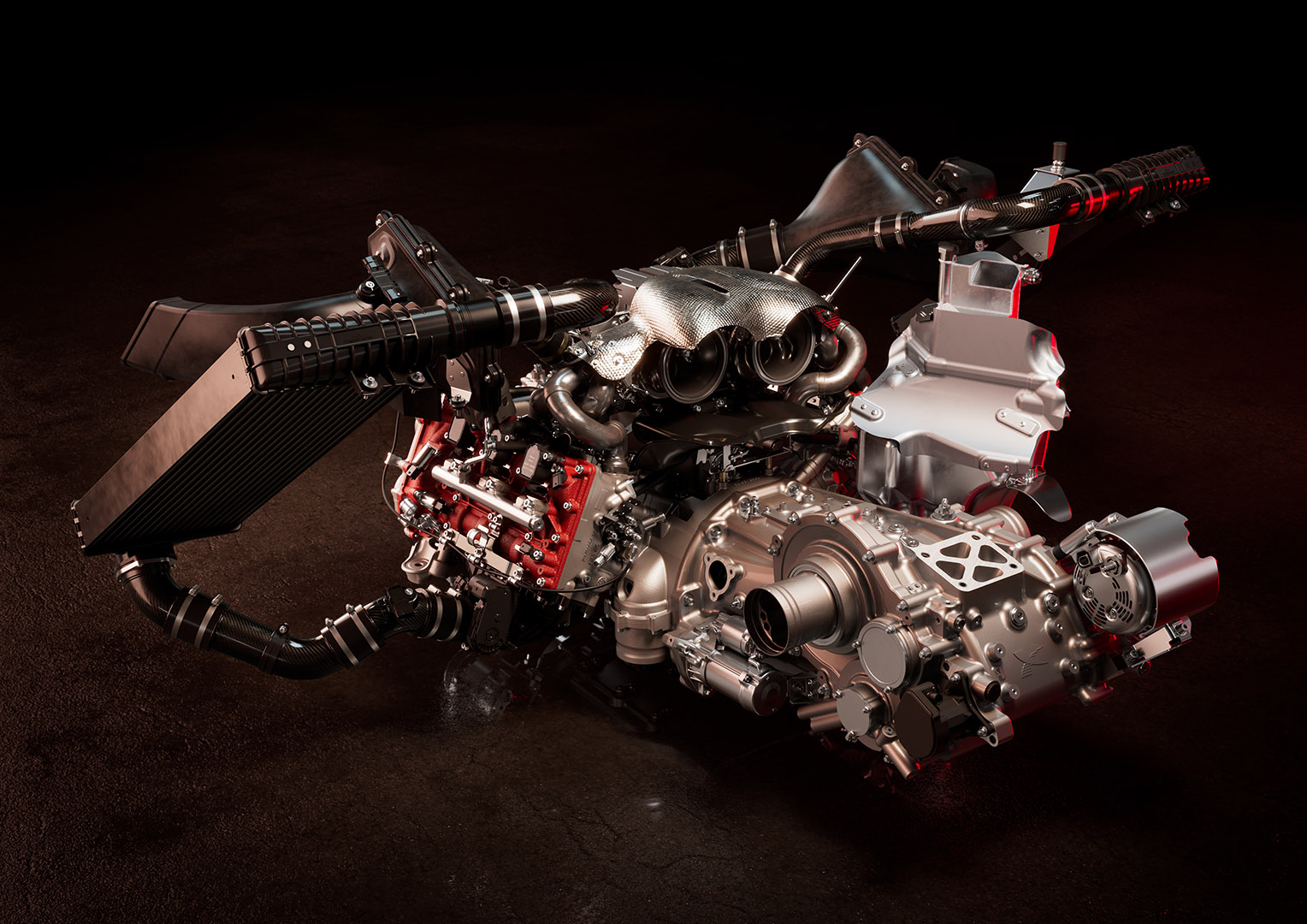 Instant interventions during the race weekends
Another stand out solution that Ferrari made with this car is their Formula 1 style accessibility of mechanical and elastic components. The front and rear portions of the car can be removed or switched in seconds due to a series of devices and solutions that will ensure quick interventions by mechanics during race, which is of paramount importance in a closely fought races in GT3 competition.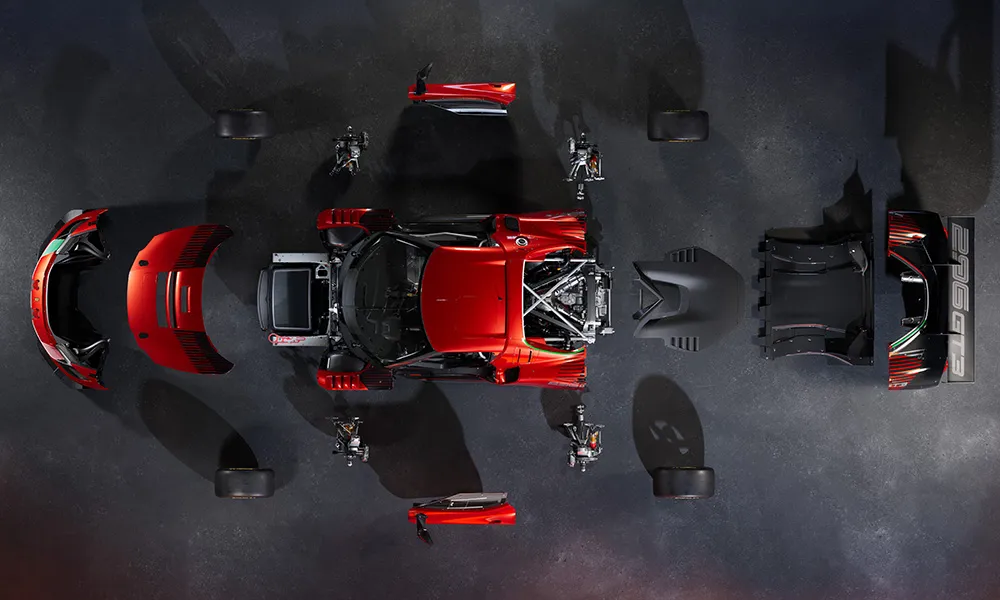 TECHNICAL SPECIFICATIONS
Engine
TYPE

F163CE, 6 cil. V 120°, 4 valves per cylinder, 2992 cm3, GDI Turbo

BORE/STROKE

88 x 82 mm

MAX POWER

around 600 Hp at 7250 rpm

MAX TORQUE

around 712 Nm at 5500 rpm
Gearbox
TRANSVERSAL SEQUENTIAL GEARBOX, 6 SPEED
E-CLUTCH ACTUATOR WITH PADDLE ON THE STEERING WHEEL
MAGNESIUM GEARBOX CASE WITH INTEGRATED OIL CATCH TANK
Chassis
TRACKS

1726 mm front / 1710 mm rear

WIDTH

2050 mm max (without mirrors)

WHEELBASE

2660 mm

WEIGHT (NO FUEL, NO DRIVER)

1250 kg

FRONT AND REAR SUSPENSION: DOUBLE WISHBONE, TUBULAR STEEL SUSPENSION ARMS, ALUMINUM UPRIGHTS.
5 WAYS ADJUSTABLE DAMPERS
RIMS

Front 12,5" x 18", Rear 13" x 18"

TYRES

Front 30/68/18, Rear 31/71/18

BRAKE DISCS

Front Ø 400×36, Rear 332×32

BRAKE CALIPERS

Front 6 pistons, Rear 4 pistons

BRAKE PADS

Front 30 mm, Rear 26.5 mm