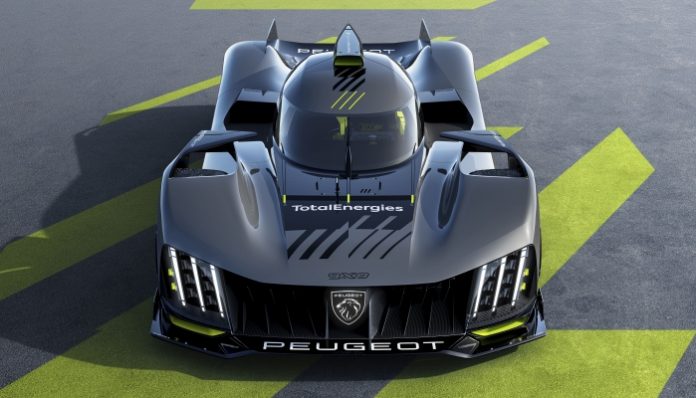 Expected to make its competitive debut in 2022 FIA World Endurance Championship (FIAWEC), the new Hypercar from Peugeot Sport presents their latest generation sports car challenger. This prototype fits perfectly with Peugeot's new Neo-Performance strategy, aiming to deliver top performance both in their new era road program and in racing.
THE NAME
Let's first explain the name of the new Hypercar challenger "9X8", which is connecting Peugeot's heritage, present but is is also a forward thinking.
The "9" refers to Peugeot's recent top flight endurance racers (Peugeot 905, raced from 1990 until 1993 and Peugeot 908, raced from 2007 until 2011).
The "X" embodies brand's electrification and refers to all-wheel drive technology and hybrid powertrain.
The"8″ is used in all current names of Peugeot models.
NEW VISION AND AERO DETAILS
Peugeot's Neo-Performance vision pillars are combination of premium sporting performance and styling excellence, efficiency, technological expertise that can be carried over to road cars.
New regulations from FIA and ACO for the new Le Mans Hybrid (LMH) class have given grater flexibility regarding the aerodynamic solutions. This is especially visible on the 9X8 Hypercar aero solutions and original styling. It is all product from collaborative effort from Peugeot Design Team, Peugeot Engineering and Peugeot Sport.
9X8 as presented does not feature rear wing, which will be first time in almost half a century sports car without a rear wing. No rear wing have given more freedom to designers and they came up with really sleek silhouette, the car is a blend of dynamic but clean shapes thus creating sweeping surface.
Whole body of the car uncluttered with sharply structured flanks, with vents on the wheel covers that reveal top of the tyres. Another striking aero detail are the perfectly integrated mirrors.
Other prominent design details that are new and are giving fresh looks on a Peugeot is brands new loin's head logo, front and rear lighting in the form of three claw-like strokes. This style is carefully carried on the interior of the car where the cockpit inside is detailed with new Peugeot Sport Engineered line, using Selenium Grey and contrasting Kryptonite acid green/yellow colors.
THE POWERTRAIN 
Peugeot's 9X8 powertrain is comprised of rear mounted 2.6 litre, bi-turbo 90-degree V6  internal combustion petrol engine delivering 500kW (680 hp), and the front mounted 200kW generator unit.
9X8 will use powerful 900 volts high-density battery developed by Peugeot Sport and Total Energies subsidiary, Saft. All this power will be delivered on the road through seven-speed sequential gearbox.
PEUGEOT 9X8 – Technical Data
Class: Le Mans Hypercar (LMH)
Length: 5,000mm
Width: 2,080mm
Height: 1,180mm
Wheelbase: 3,045mm
Powertrain: PEUGEOT HYBRID4 500KW (all-wheel drive)
Rear-drive train: 500kW (680hp), 2.6L twin-turbo, 90-degree V6 petrol internal combustion engine + seven-speed sequential transmission
Front-drive train: 200kW electric motor-generator + single-speed reducer
Battery: High density, 900-volt battery co-designed by Peugeot Sport, TotalEnergies/Saft
Fuel and lubricants: TotalEnergies
Olivier JANSONNIE, PEUGEOT Sport's WEC Programme Technical Director:
"Designing the 9X8 has been a passionate experience because we had the freedom to invent, innovate and explore off-the-wall ways to optimise the car's performance, and more especially its aerodynamics. The regulations stipulate that only one adjustable aerodynamic device is permitted, without specifying the rear wing. Our calculation work and simulations revealed that high performance was effectively possible without one."

"Our target with regard to our energy requirements is flawless reliability and perfect control, Le Mans has become a 24-hour sprint race that can be won or lost by the number of times you pit. The exceptional energy-efficiency of the new Hypercars prefigures what we will see shortly in the world of road cars. This consideration had a fundamental influence on our work on the PEUGEOT 9X8 package, every aspect of which needs to contribute to achieving hyper efficiency, from its powertrain to its aerodynamics."