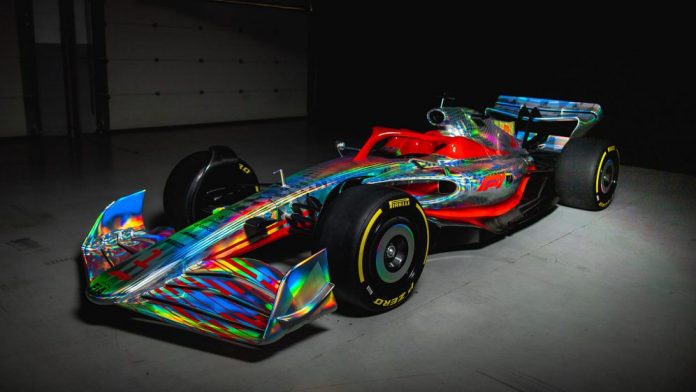 After robust and detailed research and over 7 500 simulations by F1's Motorsport team (a group of experienced experts and engineers from FIA and F1), we finally get to see how new Formula 1 car will look like, or how F1 team thinks it will look at the beginning of the 2022 season. This major rule overhaul was carefully researched and planned to align Formula 1 racing with new automotive trend but especially to give us closer and better on track racing.
Formula 1 teams are on full force in design process at the moment and we are going to see how they will interpret the new rules with their fresh ideas that inevitably will come with such a major rule overhaul, but still this is as close look as we can get before car launches before the start of 2022 season.
In general this car should address current Formula 1 car's aerodynamic weakness in relation to close on track racing but there will be and other subtle and important changes for Formula 1 as they head into the new era of racing.
AERODYNAMICS
The nose and front wing with integrated endplates on the new Formula 1 car are completely redesigned and rethought to combat the creation of dirty air behind the car. The new rear wing design also will look different and has rolled tips that will help to push the air higher as it comes at the back of the car. This will help the chasing car to stay closer through corners, which as we said leads to main objective of the new 2022 rules, a closer on track racing by reducing dirty air that current Formula 1 car are producing.
New car will feature new 3D shaped floor that will generate much more downforce from the underbody, this will be done in more efficient manner without disrupting the airflow behind.
This is the major change that will bring the reduction of the lost downforce through the corners for the chasing cars.
Once famous wheel covers will be back together with new 18 inch wheels and low profile tyres. New 2022 car will also feature wake control winglets on top of the tyres to enhance the airflow.
POWER UNIT AND FUEL
On the power unit side the biggest change will be adoption of the new fuel that will contain 10 % ethanol, called E10. This fuel must be second generation biofuel made in sustainable way, with near zero carbon footprint. Smaller changes on the power unit will be some components  standardization on fuel system and addition of sensor so that FIA can better monitor the teams power units.
SAFETY
Rigorous Formula 1 crash tests will be on even higher level for 2022 season, as the new car must withstand 15 % more energy at front and rear impact tests. Engines during crash will must separate from chassis in safe manner without exposing the fuel tank.
All this changes are adding to cars weight increase by 5 % and 2022 Formula 1 cars will have minimum weight of 790 kg.
Exiting times ahead for Formula 1 world, now it is up to the teams to show us their fresh ideas for 2022 cars and up to FIA and F1 to manage this new Formula 1 era.