New Formula 1 qualifying format "Sprint Race", a 30 minutes of pure racing is another example that change is needed and it usually works. It's a dynamic world that we are living, a world in which Formula 1 racing had to do a lot of adaptation over the past and endure a lot of negative reactions from racing world due to not well thought steps taken in a bid for increased excitement in grand prix racing.
After we've seen the first trial of this new qualifying format "The Sprint Race" in Silverstone, first impressions are positive and we can say that it offered electrifying few laps, and quite possibly showed us framework for F1 future. This change of the qualifying format will be further enhanced with the new Formula 1 cars that we are about to see in 2022.
What has changed, what's new and how it works ?
Basically second Friday practice session is scraped and instead in Silverstone we saw the same qualifying format as on Saturday (preliminary qualifying), with one important change, all drivers were using soft tyres during three quali sessions.
After first practice during Friday all cars must comply with "parc ferme" rules, meaning only one session during weekend allowed for meaningful testing and setting the cars.
Next important change that seems to add on randomness and excitement during Silverstone "Sprint Race" is the freedom of tyre choice that drivers had after using the softest on preliminary qualifying.
Duration of the "Sprint Race " is around 30 minutes or 100 km in total.
The last novelty that is important and can have real impact on championship are the points given for the first three drivers in "Sprint Race" qualifying (three points for P1, two for P2 and one point for P3).
POSITIVES
Maybe views will differ but it is safe to say that the first trial was success.
We saw great first lap battle between title protagonists (Hamilton and Verstappen).
Alonso's magic first lap where he gained six positions. Later on great battle between him and two McLarens when he lost two of the gained positions to Lando Norris and Daniel Ricciardo.
Another notable moment of the "Sprint Race" was the mistake by Sergio Perez when he lost the rear of the car at the exit of Becketts, which consequently put him on the back with damaged car.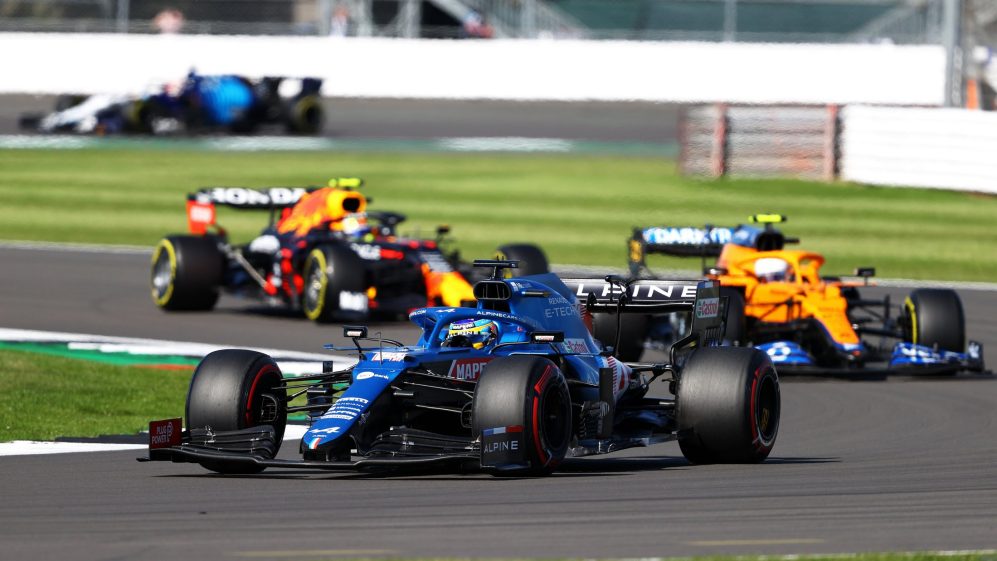 NEGATIVES
Nothing is ideal so we must point some of the details and hear the voices against new "Sprint Race", that maybe will be of help during the process of further refinement.
One is braking with tradition that fastest driver over one lap around the track to be pole sitter, and putting a touch of irrelevance on the records set until now.
Other negative is the feeling of procession after few great opening laps, this in a flash raised question about the duration and full length of the "Sprint Race" (as we previously said it was 100 km).
The second practice session held on Saturday before the main qualifying "Sprint Race", is third debatable detail, because teams and driver are not allowed to make setup changes on the cars due to "parc ferme" rules starting after Friday first practice session.
THE FUTURE
Keeping in mind that for 2021 season this new "Sprint Race" will be held only on carefully picked race weekends (two more), there will be chance for further fine corrections if needed.
What's important to be addressed while we are on this subject, is that next year if "Sprint Race" gets approval there will be more events on the calendar with "Sprint Race", but yet again careful consideration will be placed which race tracks will be selected.
That's paramount because some tracks (in example Monaco) are natural processions during race day, so "Sprint Race" qualifying just doesn't make sense.
Formula 1 is moving forward, this time with careful and well thought changes, we are basically losing one 'boring' Friday practice session for another main event with pure racing, the F1 Sprint.