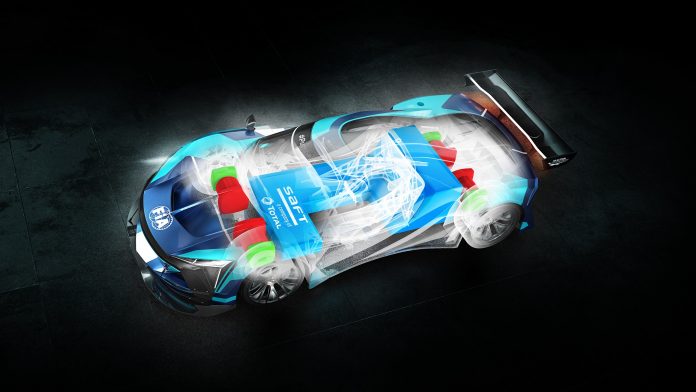 Brand new technical regulations for electric powered GT cars have been revealed by FIA. Regulations incorporate tech innovations and freedom for development of the electric systems, up until now not seen in other electric motorsport series.
The idea is these innovative electric cars to be based on current GT3 racers or completely new electric vehicles and they should operate on similar performance level with the current GT3 class. It is expected that their performance will be unrivaled during acceleration and qualifying.
Even though the category will be opened to new OEM's – electric vehicle specialists, to control the costs there is allowance for all manufacturers already competing in GT3 category to use their existing cars, make use of the current design, car architecture and convert them to electric power.
This will be first motorsport category not using standardised batteries, every manufacturer will develop their own battery layouts, based on Saft cells (battery industry leading firm – a subsidiary of Total). These cells are designed to allow for 700 kW peak regen and 700 kW recharging, that will recharge 60% of battery capacity within few minutes. Recharging will take place during planed mid-race pit stop, for which charging network will be developed, including elements of permanent and temporary infrastructure.
Powertrain regulatives and options will be also liberal and will allow the manufacturers to develop their own powertrain setups, with two or four electric motors on two wheels or four wheels configuration.
For supreme handling characteristics, cars will feature dynamic vehicle control. This innovative system will adjust the torque of each wheel independently, based on speed, acceleration, traction and steering angle.
FIA Electric GT specs
| | |
| --- | --- |
| Peak power | 577bhp |
| Battery size | 87kWh |
| Weight | 1490 – 1530kg |
| Motors | Up to four |
| Wheels driven | Rear or all |
| 0-62mph time (estimated) | 2.4sec |
| Top speed (estimated) | 186mph |
Jean Todt, FIA President: 
"The FIA's vision is to make motor sport a laboratory for sustainable mobility. The announcement of this new electric-powered GT car category is a key milestone serving this goal as it will pave the way for new battery and fast-charging technologies. A perfect illustration of our race-to-road approach."
Xavier Mestelan Pinon, FIA Technical Director:
"The role of electric propulsion in automotive industry is ever-increasing, as we want motor sport to be relevant to our industry, more and more competitions are going in this direction. The main technical challenges are battery development, battery integration in the cars and fast charging technology. This is crucial to the manufacturers who want to develop road-relevant technology rather than relying on standard components. Also, being able to utilise and adapt GT3 platform ensures that costs are under control."