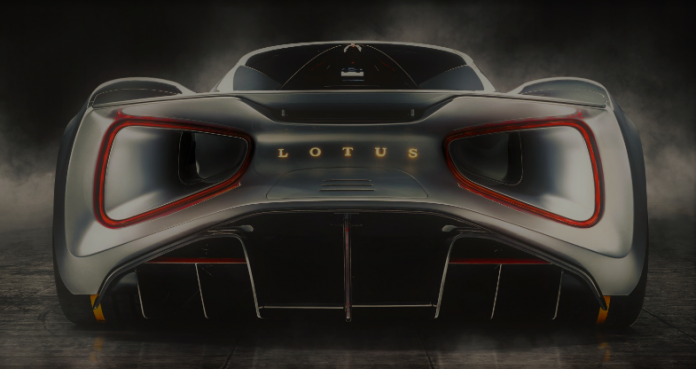 Big leap for iconic British sportscar manufacturer, the first all electric hypercar Evija, with impressive performance numbers and even more impressive body shape.
Evija is brave and decisive step by Lotus to put a stamp on new era. It is their first hyper car packed with new technology, aggressive aero concept, but still keeping gentle design touch which reveals Lotus DNA.
Williams F1 Advanced Engineering is Lotus tech partner for Evija, providing the latest racing derived battery expertise. With such high-tech partner, Evija performance numbers are game changing. The lightest fully electric hyper car (1680 kg), achieved mainly with carbon fiber monocoque, and some small but no less important details like magnesium wheels, or carbon ceramic disk brakes.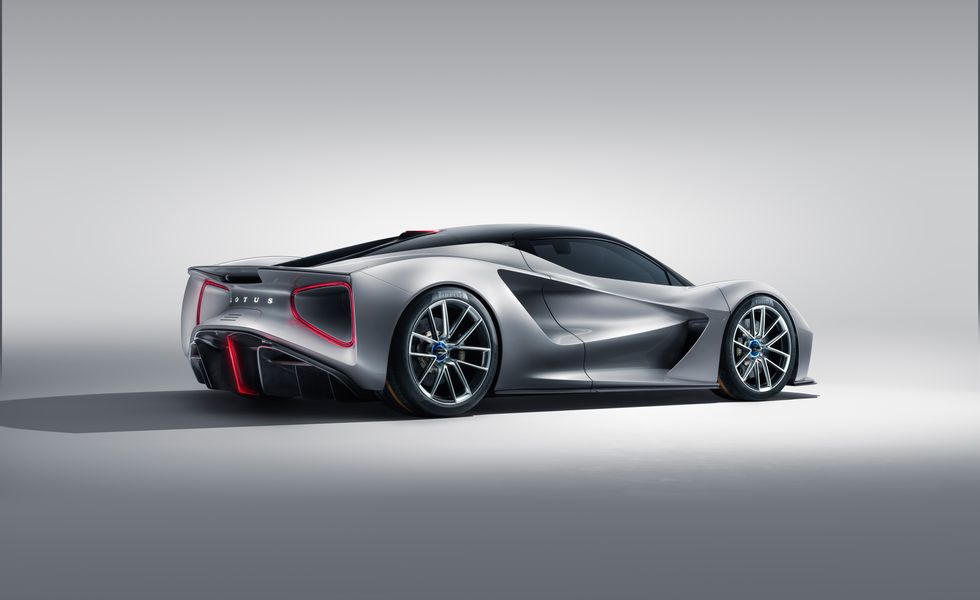 Thirty percent of total weight of the car goes to the 70 kW/h battery pack. Evija has four individual electric motors with rated power of 368 kW placed on each wheel, for a combined output of 1470 kW (or 1970 hp) and 1700 NM of torque. Each wheel with individual motor is perfect for pure torque vectoring. This will help for top speed of over 320 km/h, and laudable acceleration from 0-100 km/h in under 3 seconds, amd from 0-300 km/h in under 9 seconds.
Right behind battery pack placed in the middle of the car sits a rather unusual suspension set up, with two springs and three dumpers. This set up stops the dipping and pitching under acceleration and braking. Another benefit, giving the space for designers to create rear venturi tunnels. The front of the car features aerodynamic wishbones, placed inside front venturi tunnels, together with horizontal radiators.
Now we come to the most daring and radical leap on design of Evija, exceptional aerodynamics. Ground effect created downforce, huge diffuser with DRS flap, plus wing downforce from active end to end rear wing are the core for creating incredible downforce levels.
Evija has aero streamline and unique Lotus looks, with it's new philosophy "made to be porous". The front of the car is "breathing the air" through double front splitter, front venturi tunnels with shark fins and aero stylized suspension. It goes under and around the body to the rear diffuser and rear venturi tunnels. This air movement reduces the drag, reduces the pressure on the wheels and the lift. Detailed and perfectly sculpted shell, with organic lines and unique front and rear venturi tunnels the looks of Evija impresses.
At the exit of the rear venturi tunnels there are tail lights mimicking after burners of the fighter jet, at the front another pioneering feature are fully laser head lights.
Interior is striped of the unnecessary, designed with attention for detail, raw but elegant, with pretty unique central console and racing steering wheel.
Road car with track performance, Evija has a five driving modes: eco, city, tour, sport, and track mode.