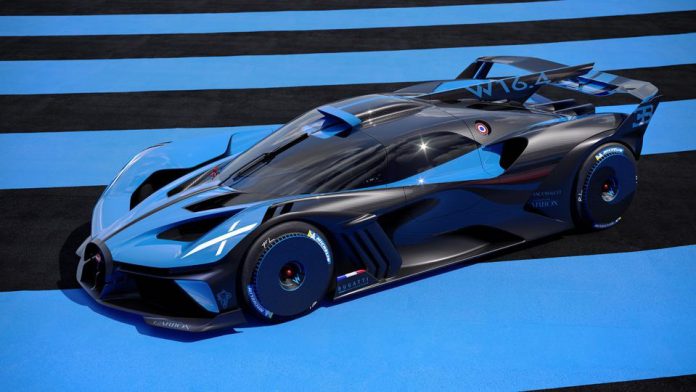 Bolide, Latin word for "missile" or Italian word for "meteor", sums up perfectly what Bugatti wants to produce with their newest concept car. A stunning, raw, race looking car with mega power from their iconic 8.0 liter w16 engine.
The French manufacturer wants to offer their authentic sports car characteristics through this new concept of extremely light, reduced to basics, track focused high-performance hypercar.
Devoted to extreme lightness, Bugatti with Bolide came up with weight to power ratio of 0.67 kg per PS, total weight being 1240 kg and total power from combustion engine 1850 PS. These numbers are giving Bolide a Formula 1 agility and record braking top speed of well above 500 km/h.
High-tech track-focused Bolide is Bugatti way of showing all their engineering brilliance in combustion engine technology, combined by scrupulously detailed and lightweight chassis.
The iconic W16, 8.0 liter engine incorporates some new solutions and ideas because he is specifically designed for track use. Both intake and exhaust systems are de-throttled for more spontaneous response. For more boost pressure and power at higher engine speed, four turbo chargers are redesigned and redeveloped. There is new air to air intercooling system for the engine, and turbo fan radial compressors (made from carbon and titanium) to cool down high-performance brake system. The brake system is practically racing system as in Formula 1, with ceramic discs and calipers that weight just 2.4 kg. The OZ rims made from forged magnesium have central lock and weight of 7.4 kg fronts and 8.4 kg rears.
It is clear that Bugatti left no stone unturned in finding way to produce the Bolide with total weight of just 1240 kg. Completely new monocoque from carbon is developed around the drive-train, front-end made from high-strength carbon fiber is integrated into monocoque, as is the highly-efficient underbody.
For racing handling and better driving performance, a brand new push-rod architecture is designed. Further more for improved aerodynamics oil reservoirs are placed inside the dumpers and welded stainless steel control arms work as wing profiles.
Bugatti Bolide generates 2.600 kg of downforce at 320 km/h. This is achieved with combination of an athletic body, aero underbody, and extensive usage of wing profiles and flaps. The most eye catching aero innovation is probably outer skin of the intake scoop on the roof. A field of bubbles bulges out at fast speeds thus reducing the aerodynamic drag of the scoop, while at the slow speed scoop surface is smooth.
The interior is also striped to the basics, no luxury to be seen, but there is a touch of flying aircraft mode with the inside shapes and forms, inspired by the first jet aircraft that break the sound barrier.
Remains to be seen if Bugatti decides to start the actual production of Bolide.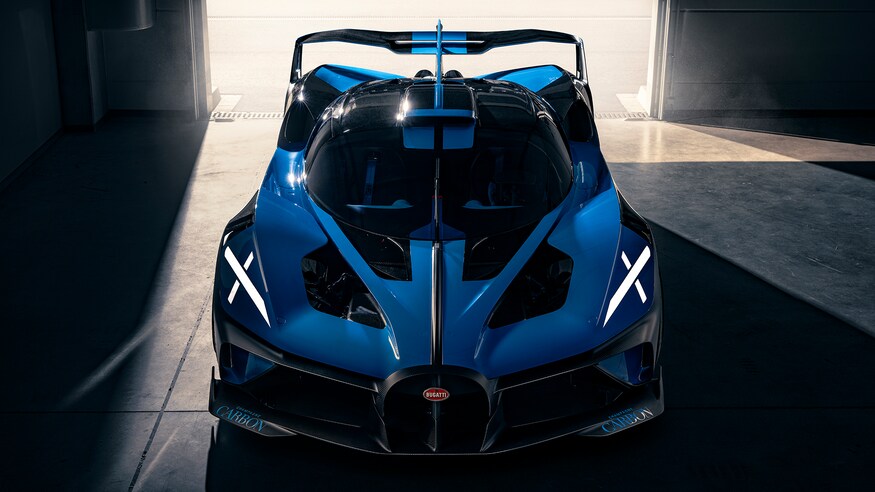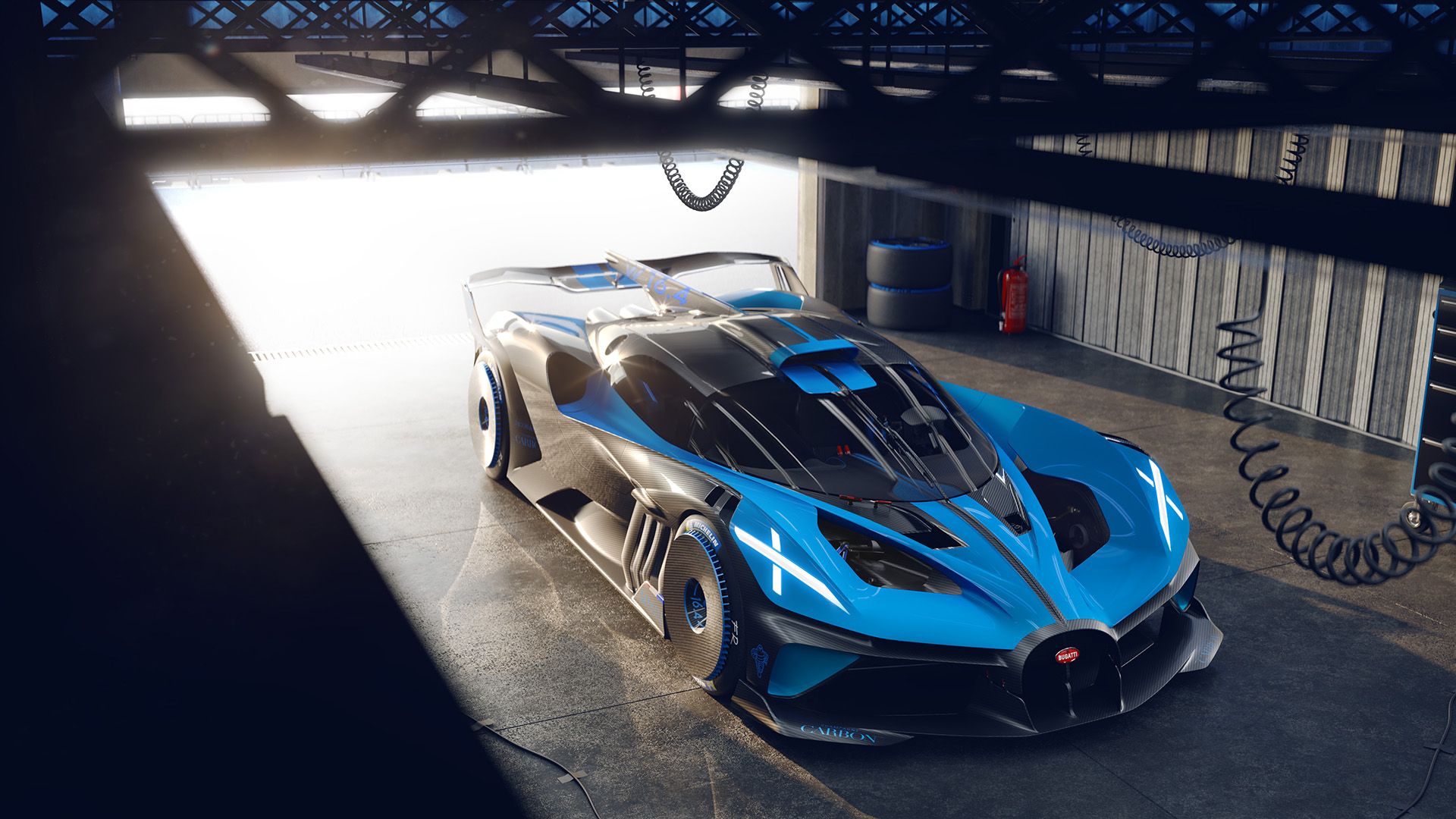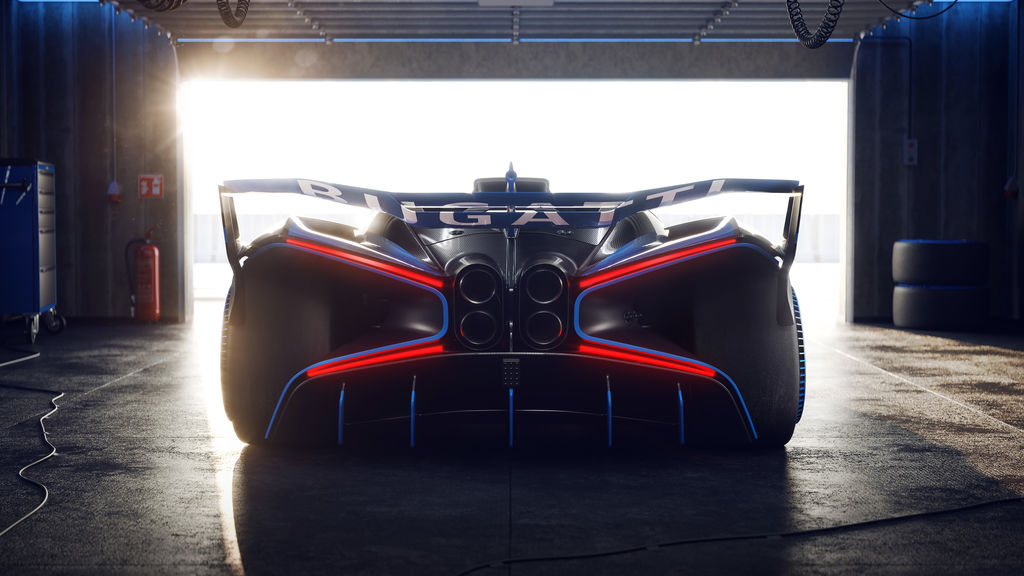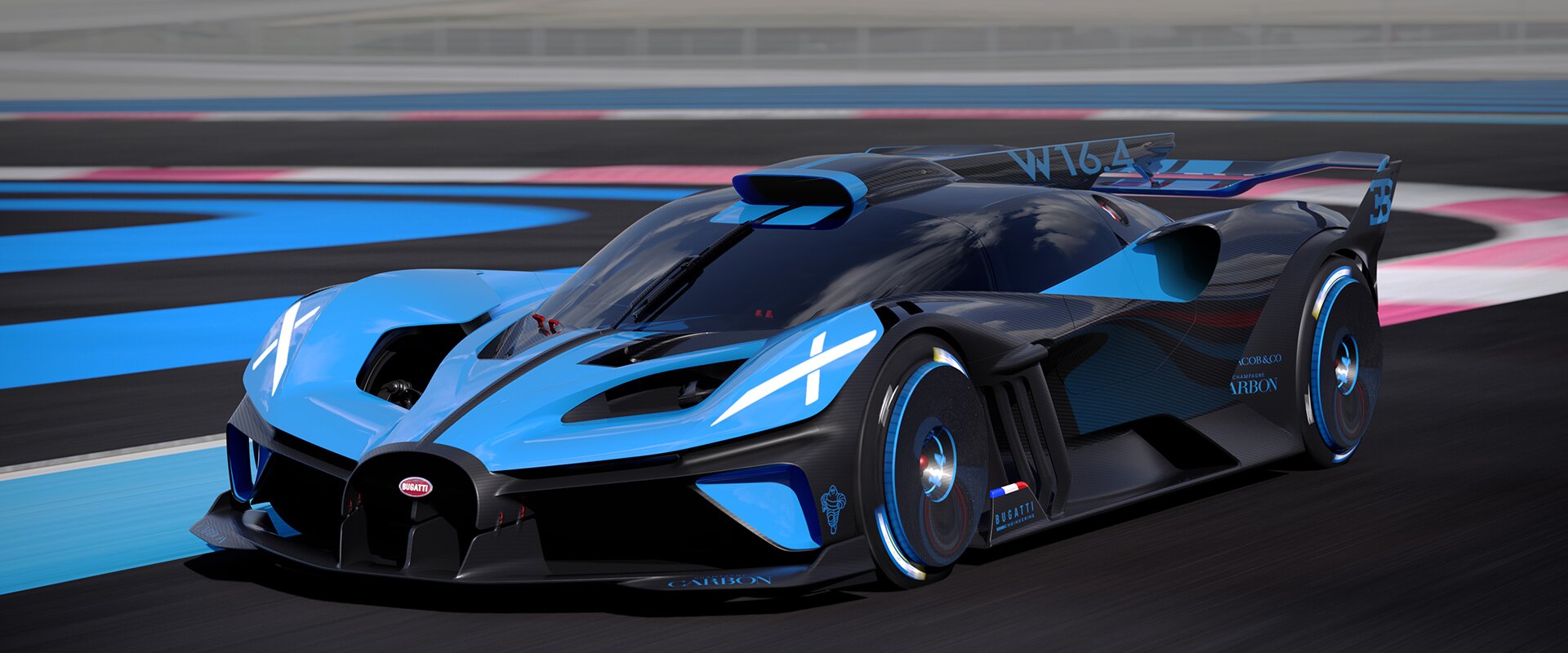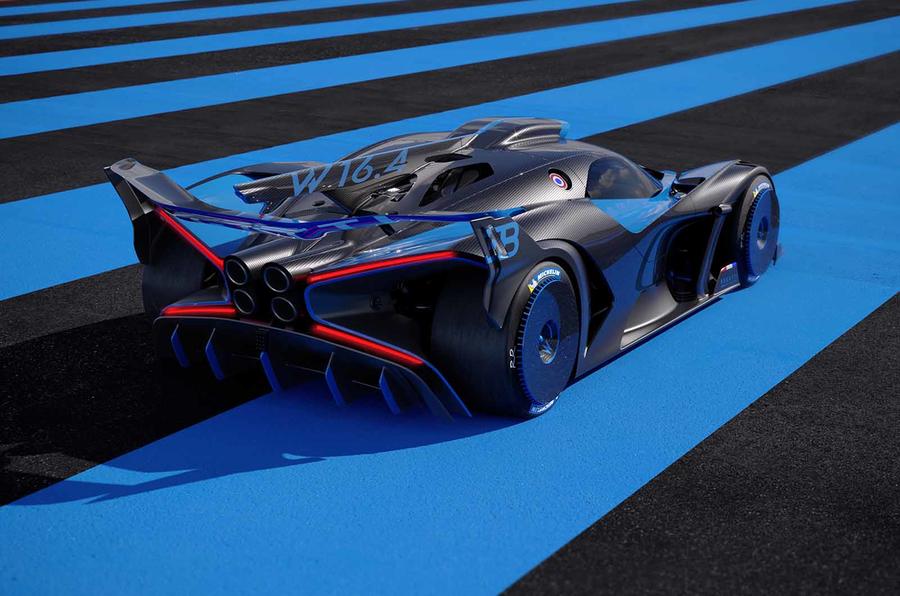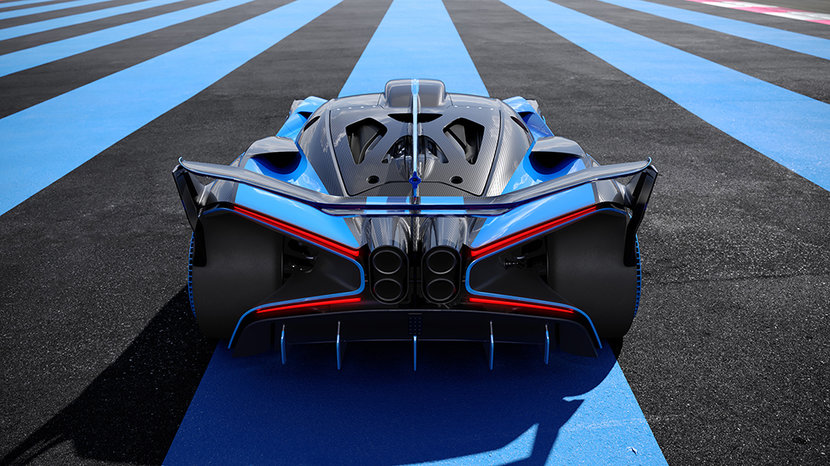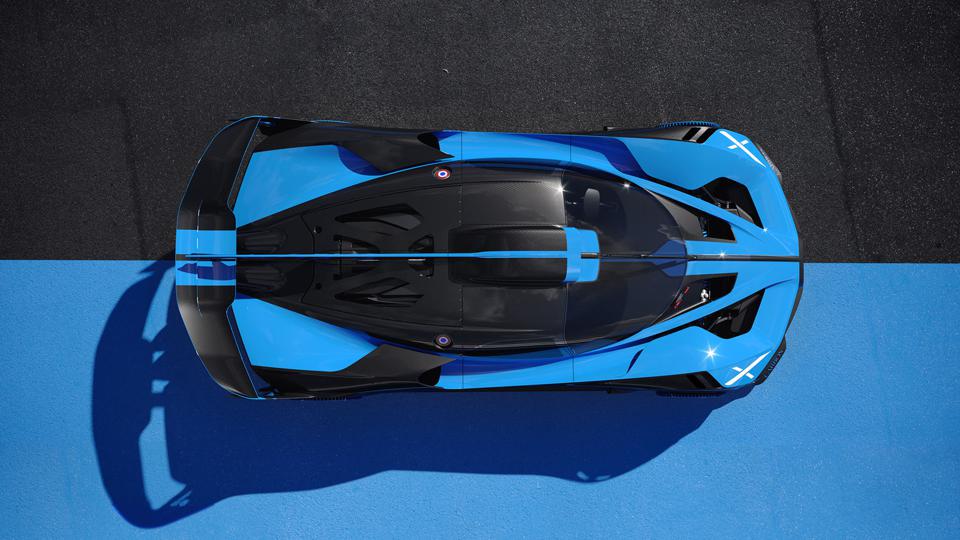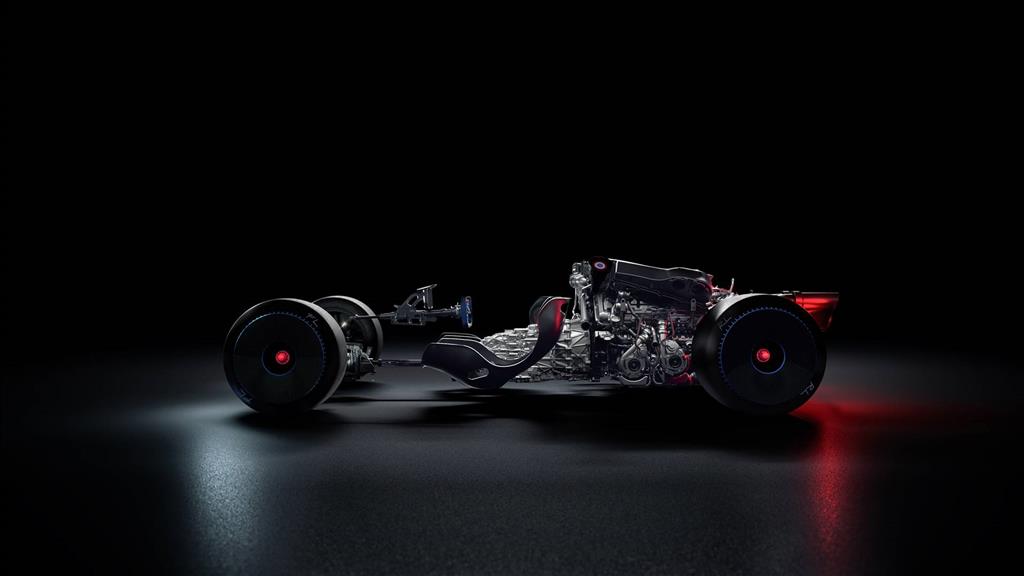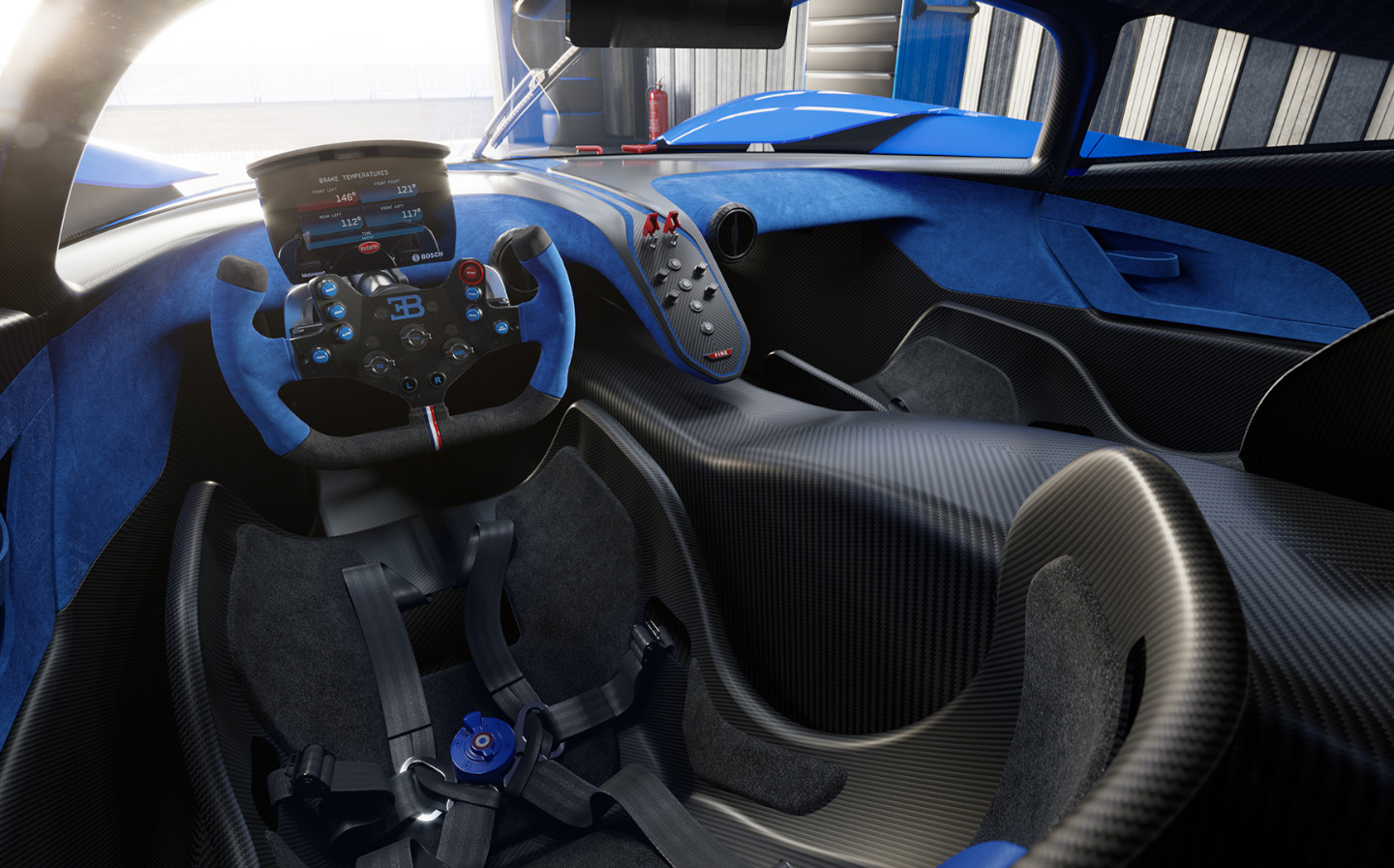 Tech Data for Bugatti Bolide:
DRIVETRAIN
| | |
| --- | --- |
| Engine design / cylinders | W16 |
| Displacement | 7,993 cm3 |
| Number of valves per cylinder | 4 |
| Forced induction | 4 exhaust gas turbochargers |
| Power output | 1,361 kW/1,850 PS at 7,000 rpm |
| Maximum torque | 1,850 Nm (2,000 to 7,025 rpm) |
| Transmission | 7-gear DSG |
| Drive | Permanent all-wheel drive |
| Power distribution front | Controlled longitudinal differential lock, Borg-Warner type |
| Power distribution rear | Controlled transverse differential lock |
CHASSIS
Front suspension
Double wishbones
Push-rod linkage with lying spring/damper units
Rear suspension
Double wishbones
Direct linkage with standing spring/damper units
Front tires
Michelin racing slicks, 30/60 R18
Rear tires
Michelin racing slicks, 37/71 R18
Wheels
OZ Racing 18-inch forged magnesium
Rear tires
Michelin racing slicks, 37/71 R18
Brake discs front & rear
380 mm x 37 mm
Brake pistons per caliper
6
DIMENSIONS
| | |
| --- | --- |
| Length | 4,756 mm |
| Width | 1,998 mm |
| Height | 995 mm |
| Wheelbase | 2,750 mm |
| Front overhang | 963 mm |
| Rear overhang | 1,040 mm |
| Ground clearance (to the underbody) | 75 mm |
| Vehicle dry weight | 1,240 kg |
| Weight-to-power ratio | 0.67 kg/PS |
PERFORMANCE (SIMULATION)
ACCELERATION
| | |
| --- | --- |
| 0 – 100 km/h | 2.17 s |
| 0 – 200 km/h | 4.36 s |
| 0 – 300 km/h | 7.37 s |
| 0 – 400 km/h | 12.08 s |
| 0 – 500 km/h | 20.16 s |
| 0 – 400 – 0 km/h | 24.64 s |
| 0 – 500 – 0 km/h | 33.62 s |
| | |
| Maximum lateral acceleration | 2.8 G |
AERODYNAMICS
| | |
| --- | --- |
| In high downforce configuration | cW* A 1.31 |
| In high speed configuration | cW* A 0.54 |