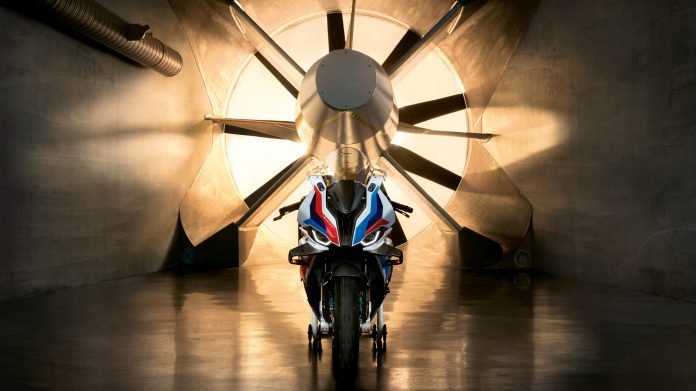 Track performance on a road machines is a trend with rising momentum across the auto & moto industry. BMW Motorrad follows this by putting BMW famous M Power badge on their newest WSBK (World Super Bike) performer M 1000 RR.
Highest performance derived from professional racing are giving road racers pure racing motorcycle, build with high-tech materials, crafted to perfection. There will be 500 examples of BMW M 1000 RR, build for FIM World Championship homologation, emphasizing BMW commitment to the World Superbike Racing (WSBK).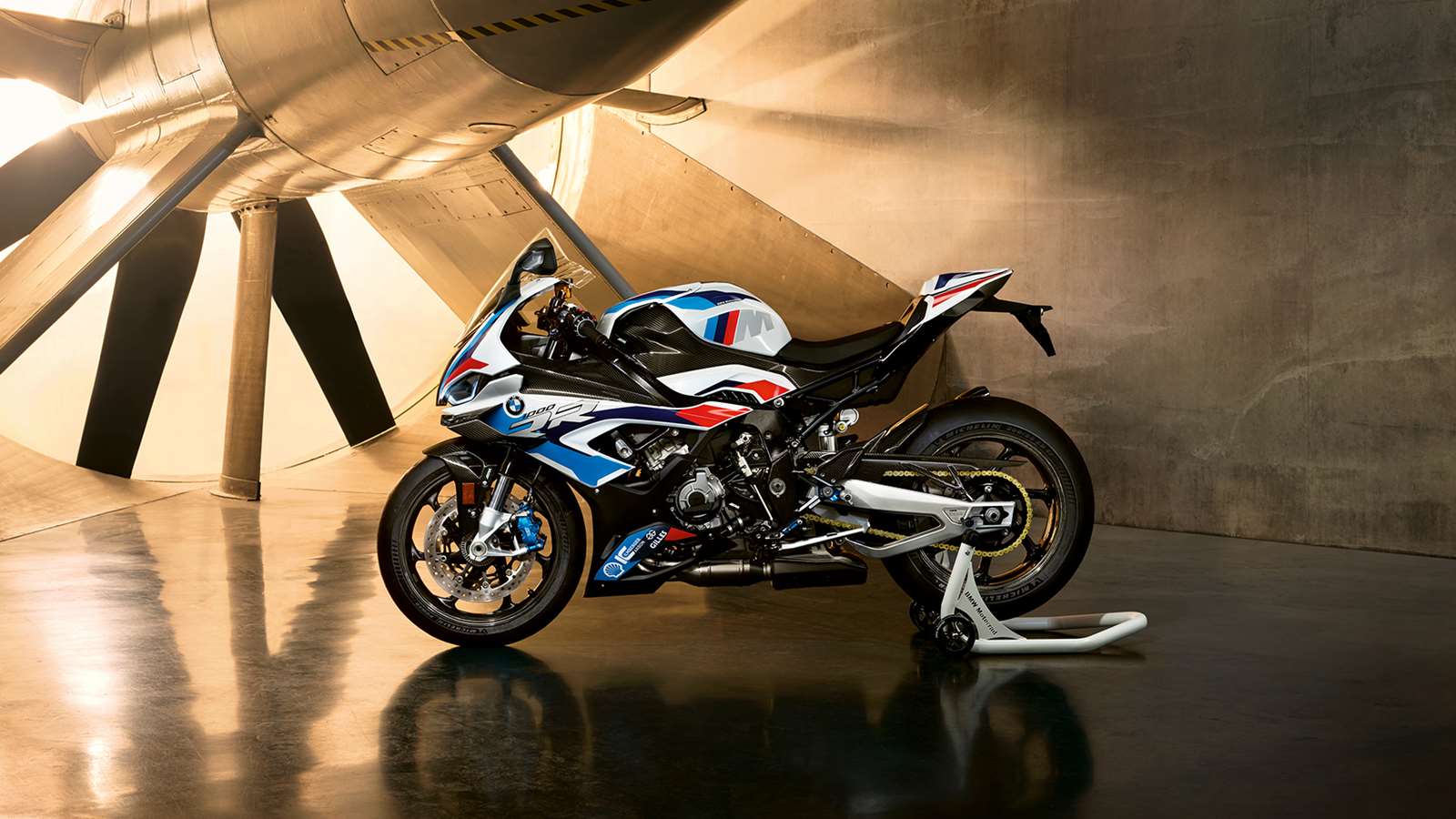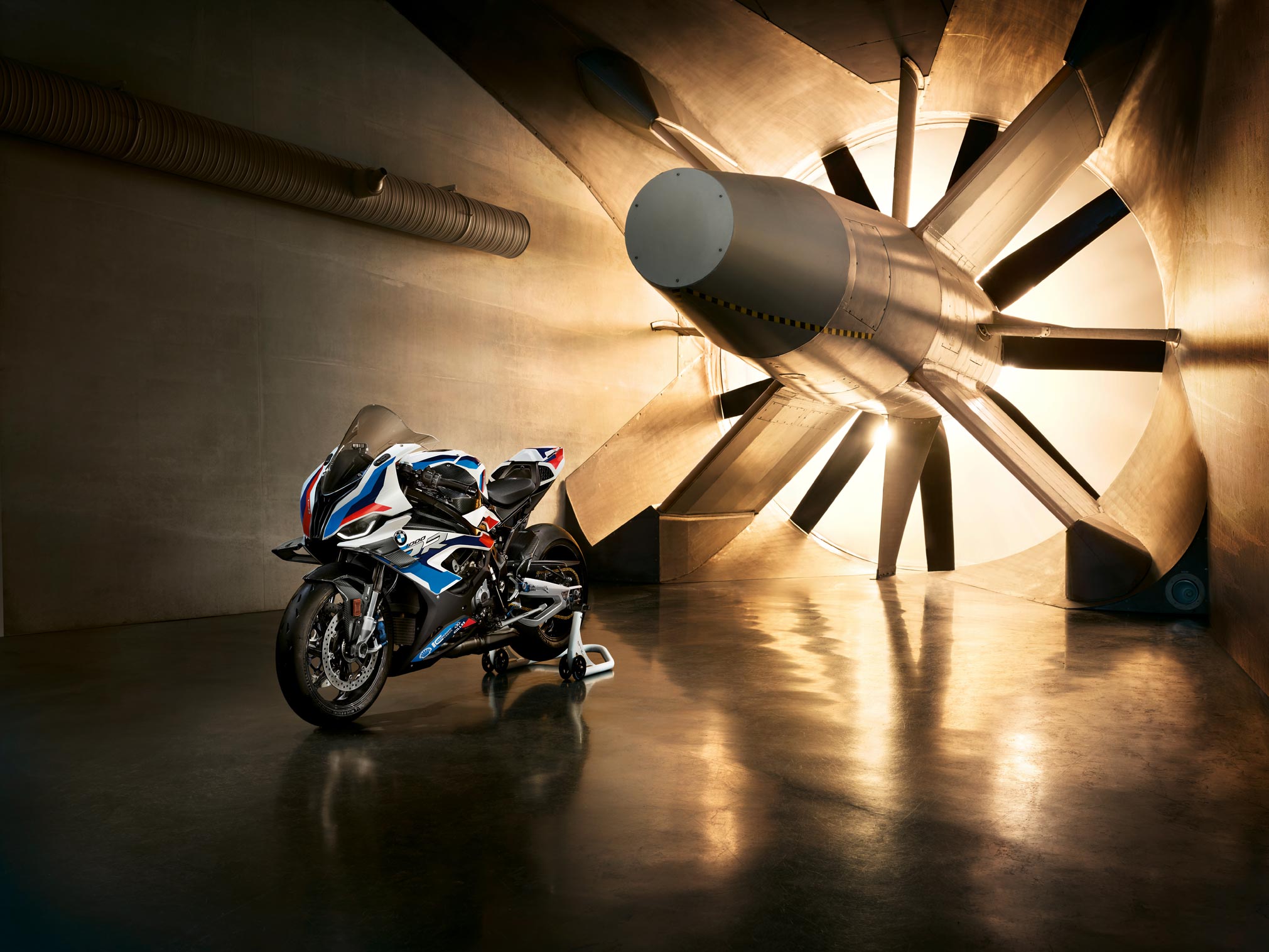 S 1000 RR as a base-line bike, an already high-performing motorcycle is being further refined and upgraded both visually and under the shell so that the sport performance are perfected and enhanced for the road. The M 1000 RR aluminum chassis is narrower and lighter than the S chassis, with enhanced ergonomics which results in reduced squat on acceleration and under braking.
There are a lot of subtle changes on the chassis geometry trimmed to seamlessly align bike's race performance traits to the county roads. That's why a lot of attention is put on practicalities like the rescaled and easily adjustable pivot point. BMW reworked the suspension and simplified adjustment, bike has new rear axle which allows quick rear wheel change.
For better contact pressure and easier apex pointing the M 100 RR is equipped with M winglets another direct WSBK import. It is measured that M winglets are generating downforce of up to 35.9  lbs at 189 mph.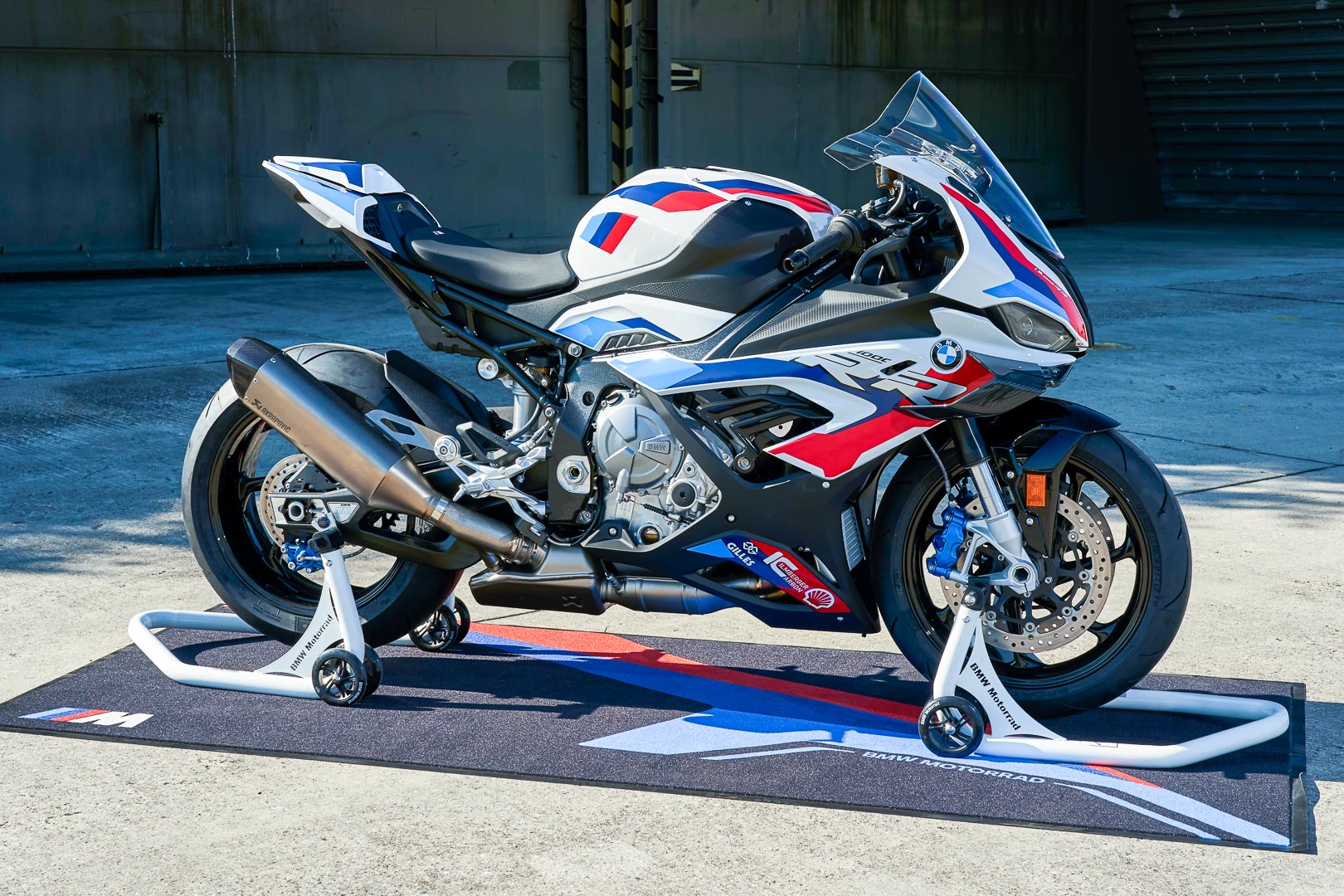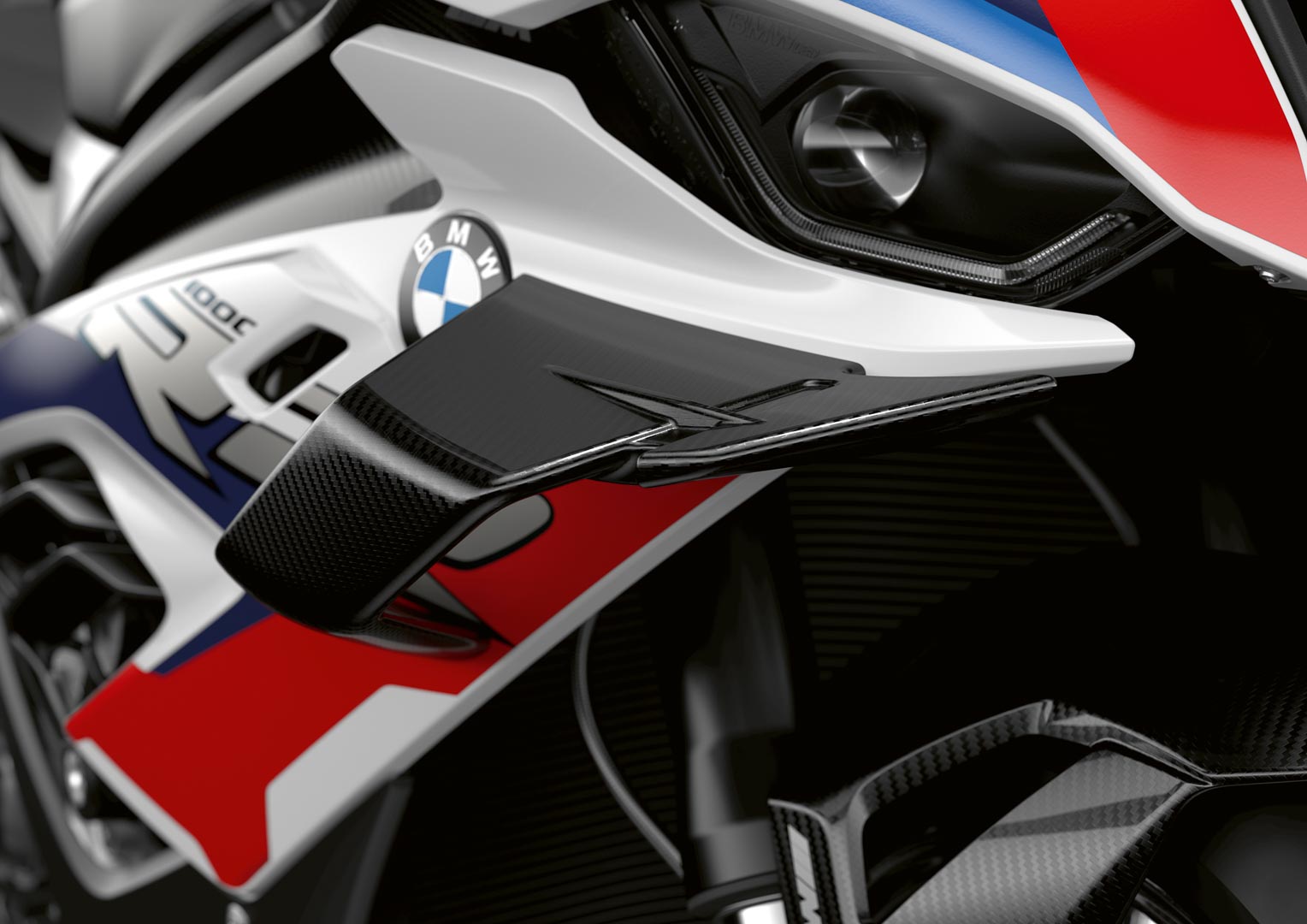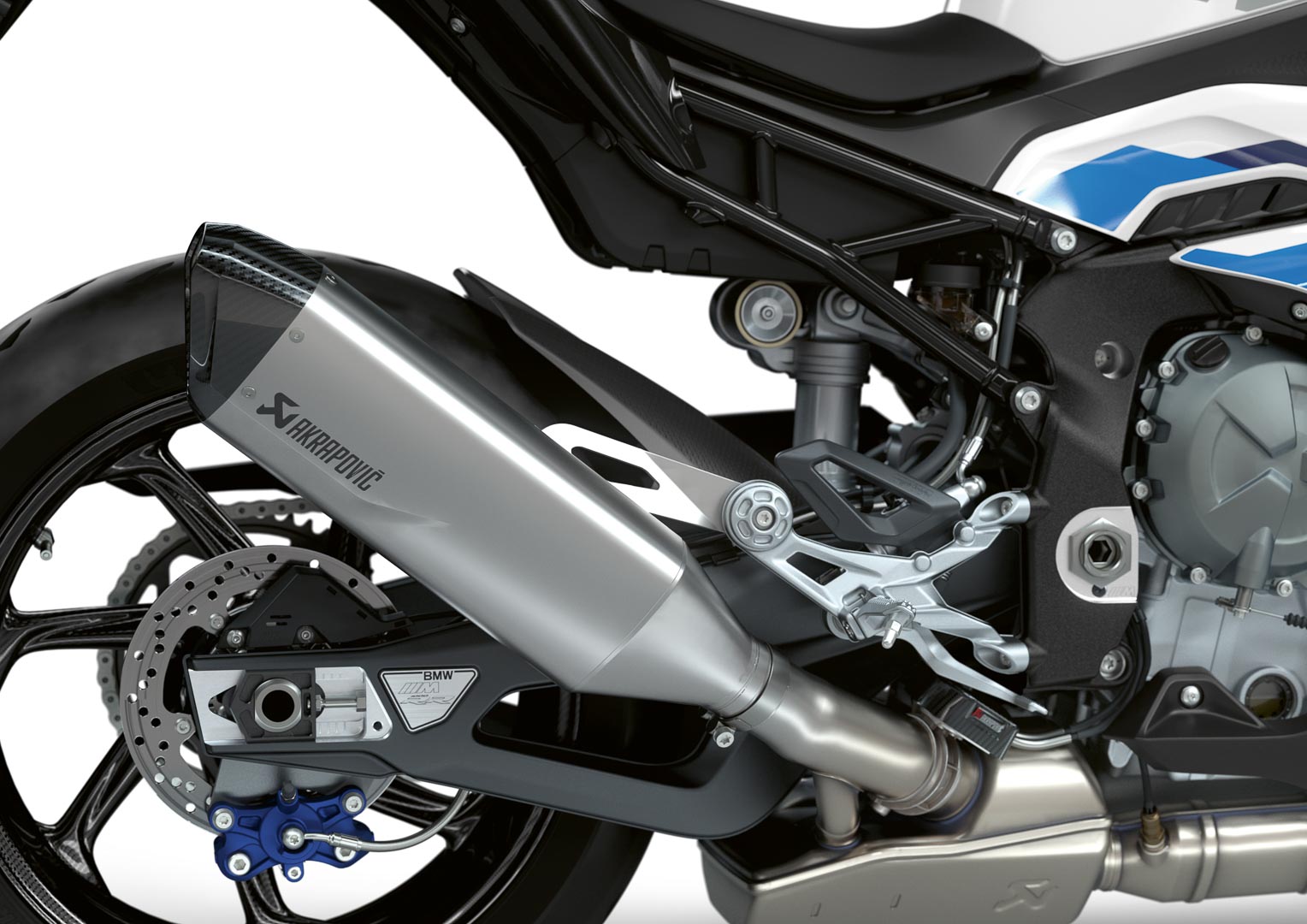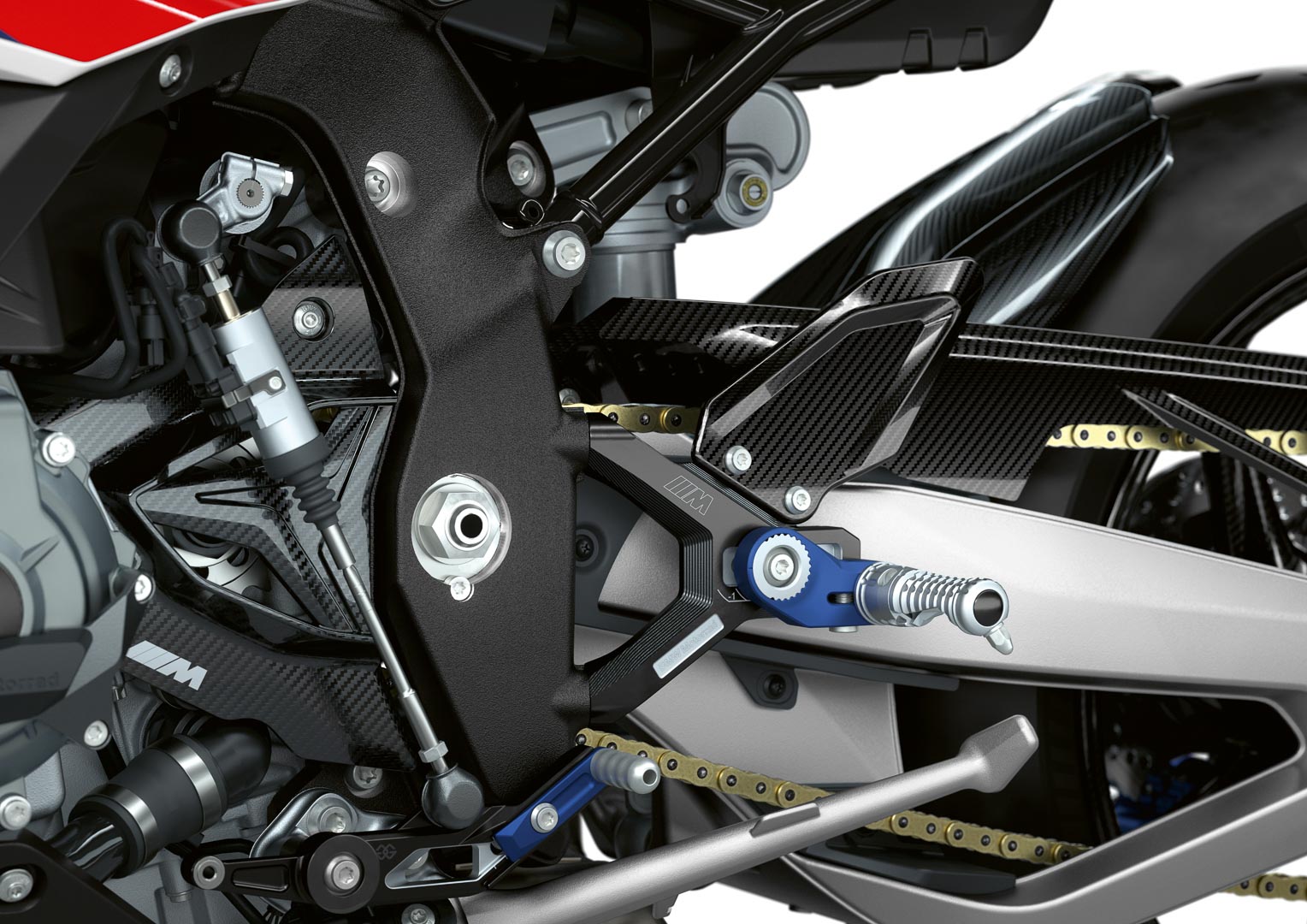 The four cylinder in-line engine is further upgraded, also developed through sport's racing to be applied for road machine. The max power now is reached at mind boggling 15.100 rpm, which is helping for higher torque starting from mid-range rpm's.
Other changes around the engine are the shortened air funnel, 1.5 mm narrower rocker arms, new lighter titanium connecting rods, 2-ring forged pistons, cylinder head with new channel geometry and reinforced bearing bracket.
The rear sprocket has been given additional tooth, and consequently the chain and wheelbase have been lengthened.
All of this will reduce mass inertia and will make M 1000 RR more dynamic.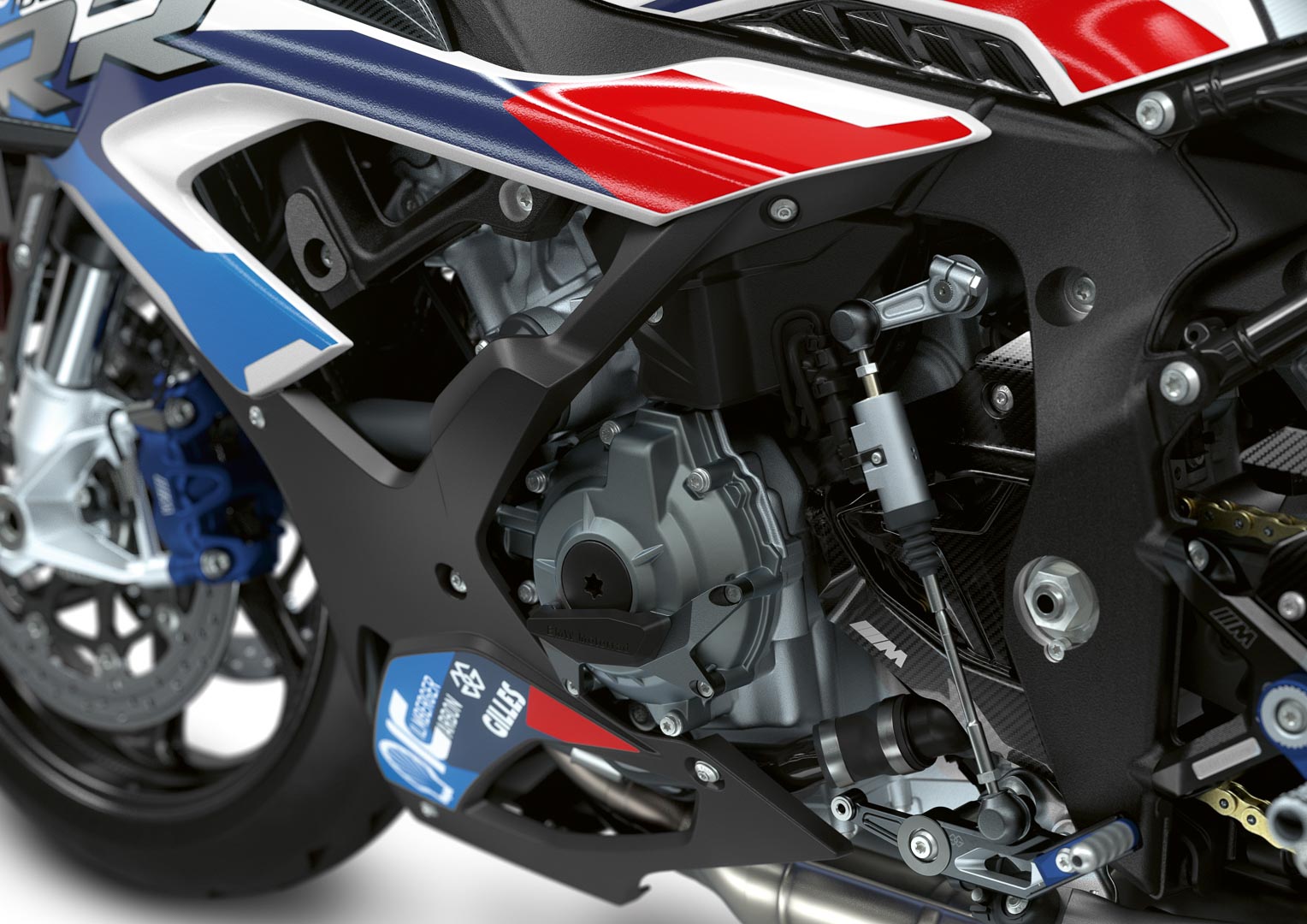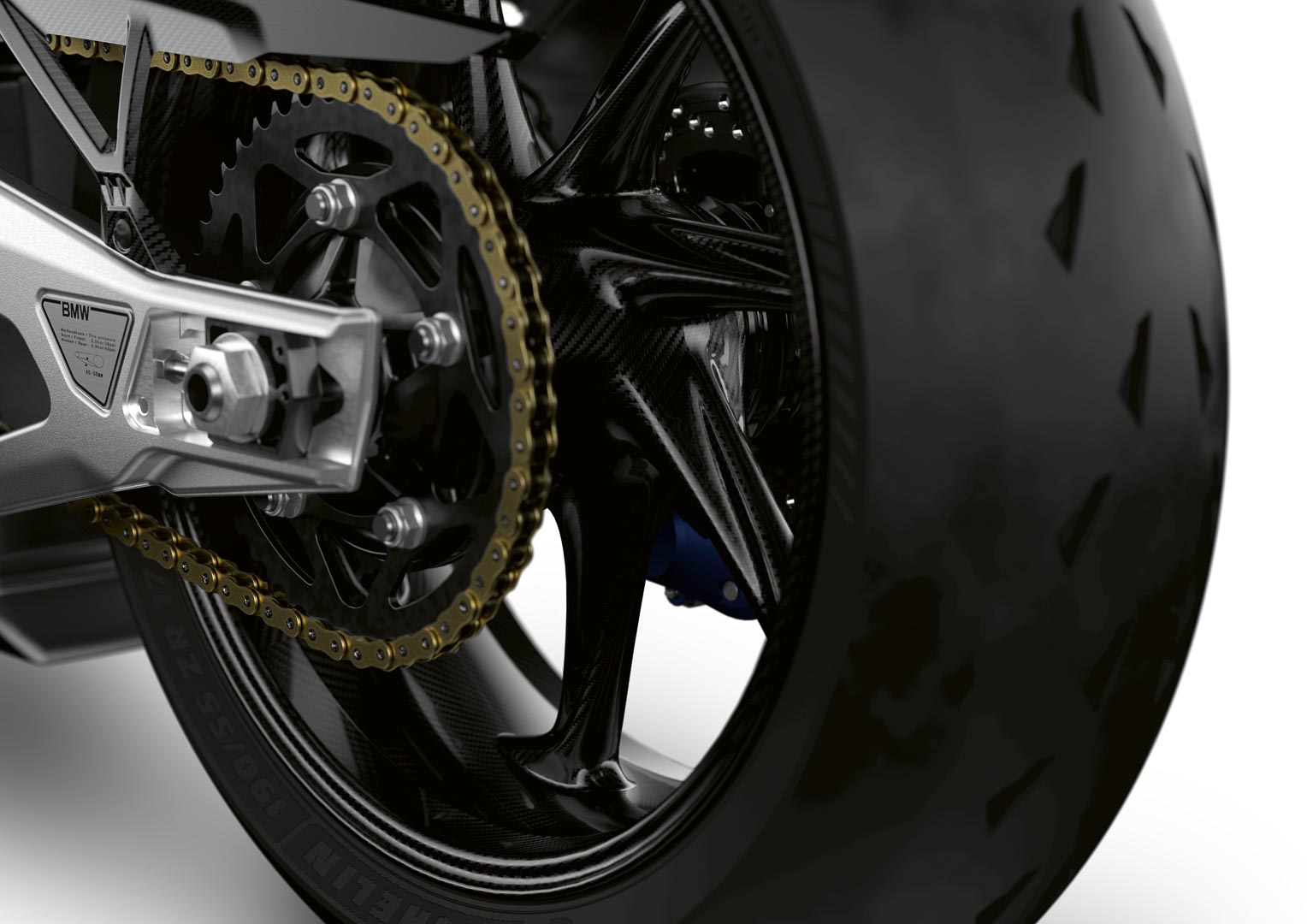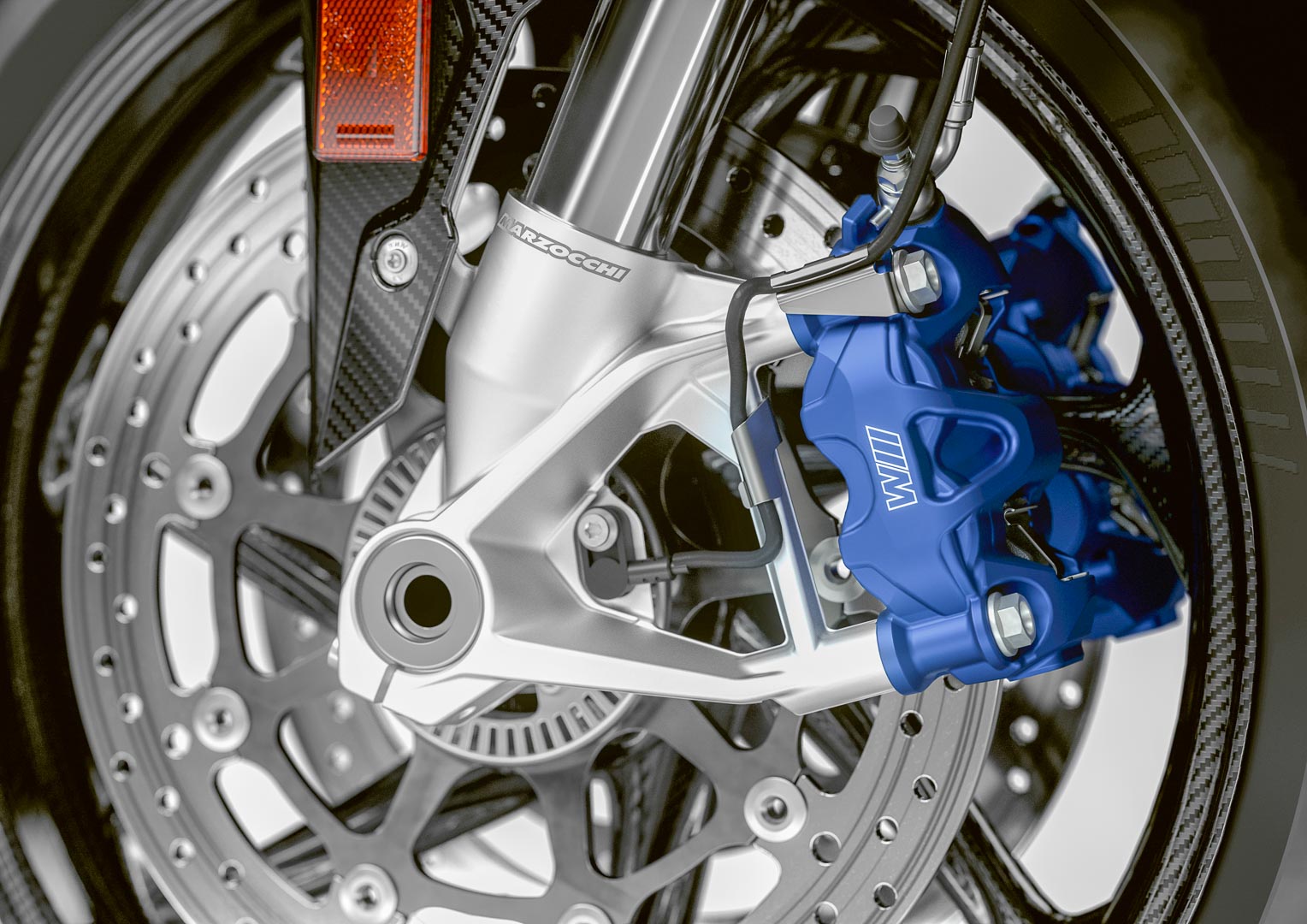 BMW is particularly proud of the M badge on their WSBK carryover braking system. For outstanding braking stability and feedback they have optimized the fluid balance for greater pressure point stability. The brakes will have two pad compounds, one for track use and other for the road.
The M 1000 RR will give you option to choose one of the five riding modes that impacts the power, traction control and wheelie control: Race Pro 1-3, Race, Dynamic, Road, and Rain.
Lastly as BMW is saying, for further perfection they are offering optional competition package with M badged Performance Parts, adding even more customization options of your M RR.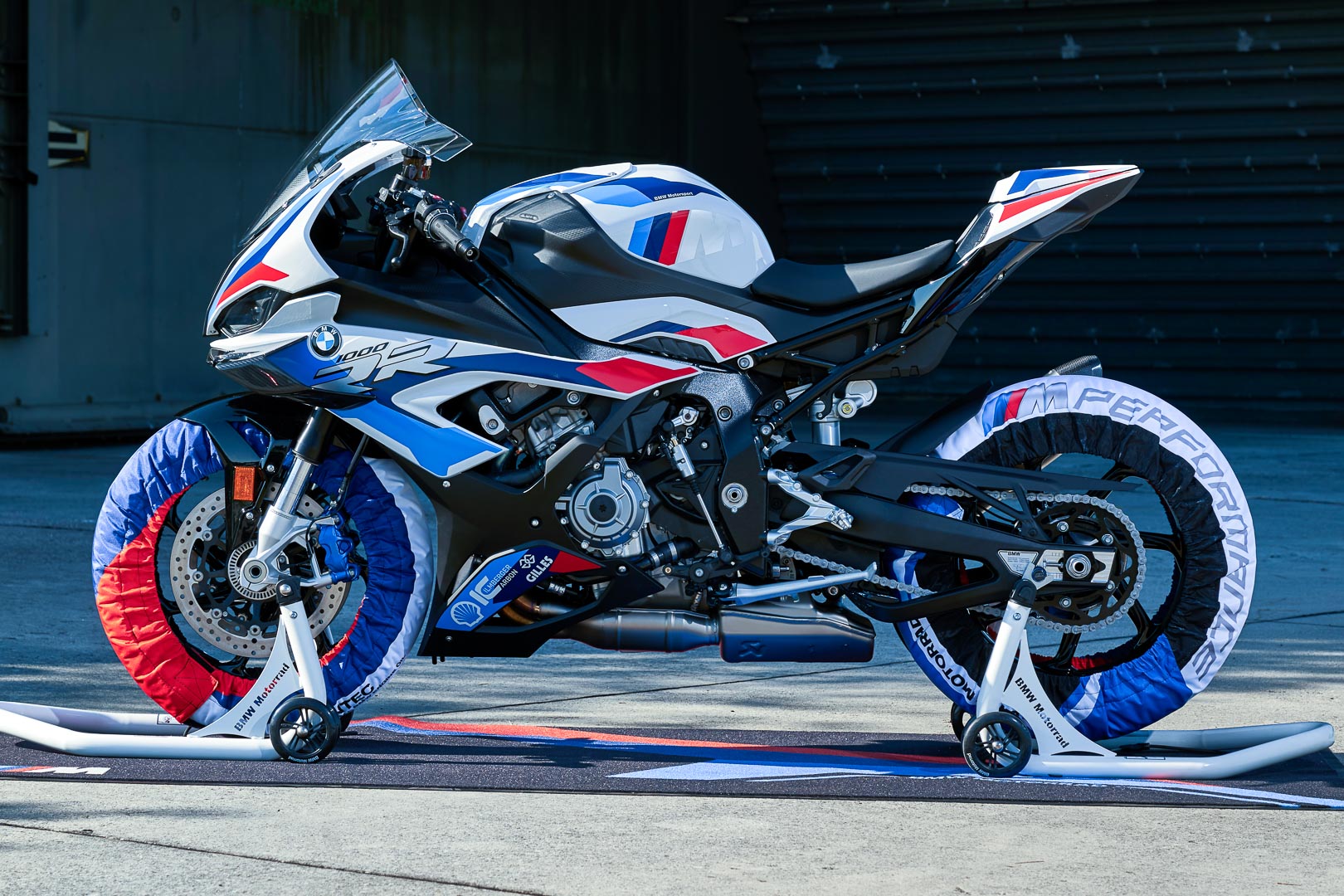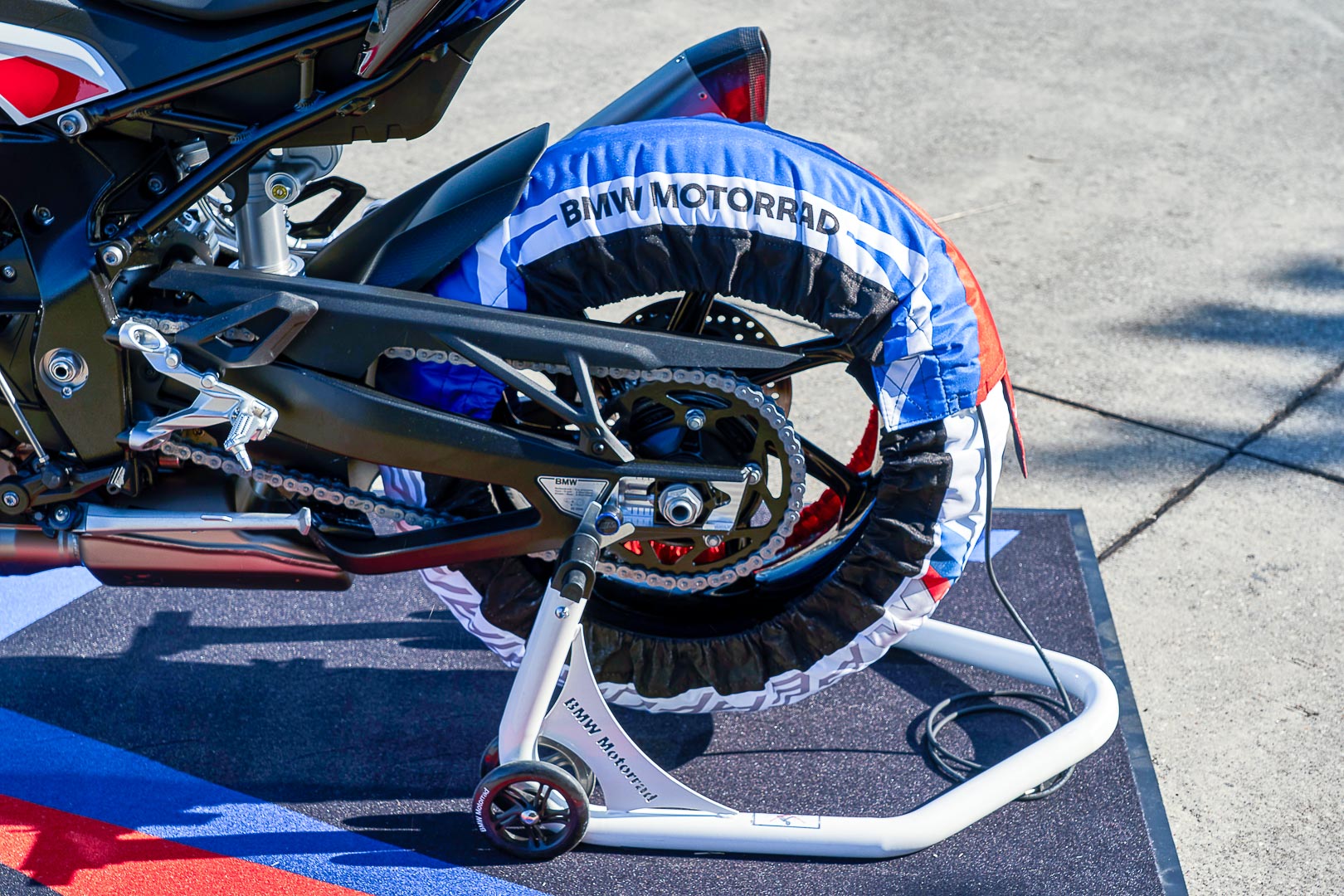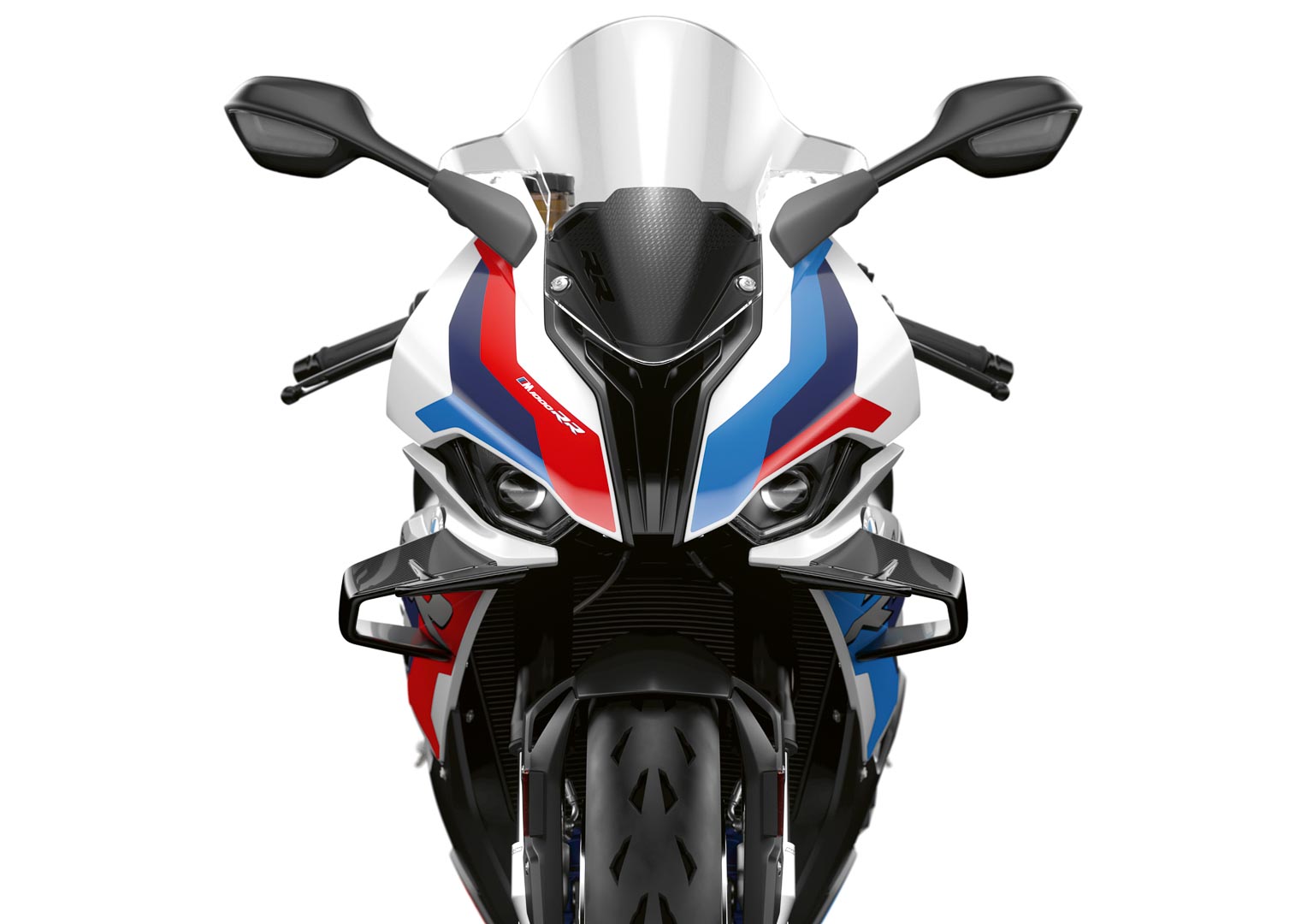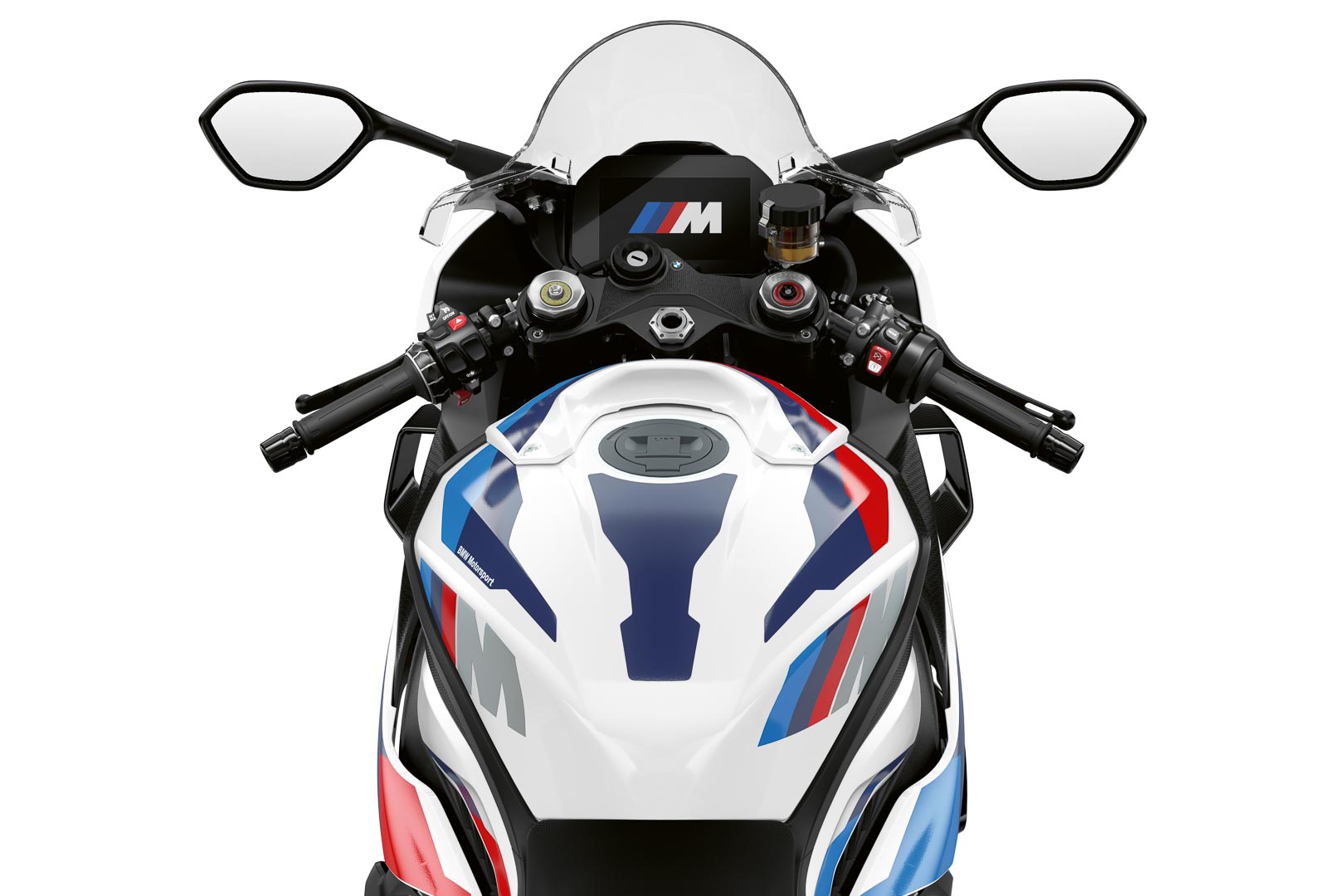 TECH DATA 
Engine
Type
Water/oil-cooled 4-cylinder with 4-stroke in-line engine, four titanium valves per cylinder and BMW ShiftCam
Mixture control
Electronic injection, variable intake pibe
Emission control
Closed-loop 3-way catalytic converters, EU-5 norm
Performance / fuel consumption
Fuel consumption per 100 km based on WMTC
CO2 emission based on WMTC
Fuel type
Unleaded super(premium), octane number 95 – 98 (RON)
(knock control; rated output at 98 RON)
M Lightweight Battery
12 V / 5 Ah, Lithium-ion
Power transmission
Clutch
Multiplate clutch in oil bath, slipper clutch
Gearbox
Constant-mesh 6-speed gearbox with straight cut gears
Frame
Bridge-type frame, cast aluminum, load-bearing engine
Front wheel location / suspension
Upside-down telescopic fork with a diameter of 45 mm, adjustable compression and rebound stage, adjustable preload
Rear wheel location / suspension
Aluminum swing arm, compression and rebound damping adjustable, adjustable preload
Suspension travel, front / rear
Brake, front
Twin disc brake, M Brake 4-piston fixed caliper, 5 mm diameter 320 mm
Brake, rear
Single disc brake, 2-piston fixed caliper, diameter 220 mm
ABS
BMW Motorrad Race ABS Pro (part-integral), modes to select
ABS Pro
ABS Pro settings for RAIN, ROAD, DYNAMIC mode, no ABS Pro in RACE and Race Pro 1-3 mode
Dry weight
 375 lbs. (M Competition Package 374 lbs.) without battery
Unladen weight, road ready, fully fuelled
423 lbs.  (M Competition Package 423 lbs.)
1)
Payload (with standard equipment)