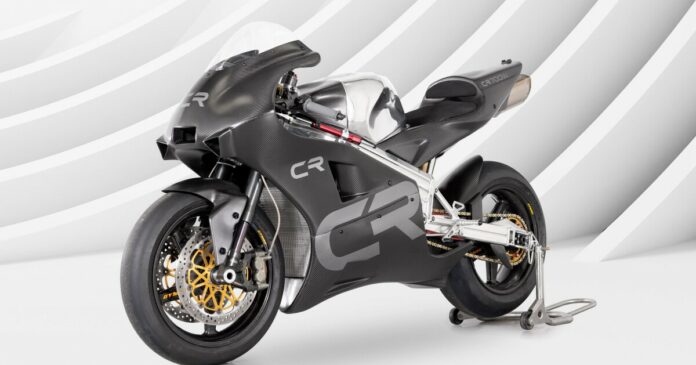 Brian Crighton, former British three time 50cc champion and engine tuner who designed once famous racing motorcycles Norton powered by rotary engines is a man with persistent passion. He presented to the world his ultimate road and track motorcycle CR700W, uniquely powered by rotary engine. 
Guiding vision for this project is to give a chance to a handful lucky and passionate racers to experience as close a possible the speed, agility and power of Moto GP bike on the road.
We take a closer look at creative engineering that gave birth of the CRIGHTON rotary motorcycle CR700W, his performance and technical specifications.
UNIQUE MACHINE COMBINING TRADITIONAL DESIGN AND RARE ROTARY ENGINE WITH ULTIMATE PERFORMANCE
The sheer numbers of CR700W are just startling and worthy of appreciation. Fuel injected twin rotor 690cc engine boasts 220 hp at 10,500 rpm, 105ft/lbs torque power peaks at 9,500 rpm. If we translate and compare, this means 319 hp per litre, or very much comparable with any normally aspirated engine coming from MotoGP or Formula 1.
And all this power is seamlessly transferred on the road, the bike has outstanding handling that will give unique and unparalleled rider experience. His Rotron Power unit helps the bike's outstanding handling with his ultra lightness and exceptional low center of mass.
The CR700W twin-rotor rotary engine contains just three moving parts, measures just 340mm in length, 240mm in diameter and weighs just 24kg. Together with its integrated six-speed gearbox and slipper clutch, the complete engine and transmission unit weighs just 46kg. Each rotor generates 200 degrees of power stroke per revolution.
ENGINE – CRIGHTON CR700W "STAR"
The engine's structural components are cast in high strength LM24 aluminium alloy and are machined in-house.
All engine wear surfaces are molybdenum and nicasil-plated to ensure light-weight, low friction and high wear resistance.
The main eccentric driveshaft is manufactured from a cryogenically stabilised EN36 steel alloy. The combustion sealing elements include ultra-low friction, two-piece silicone nitride ceramic apex seals.
The ultra-low density and extreme hardness of this exotic material provides the engine's sealing elements with close to zero wear characteristics.
Engineering developments such as these, coupled with Brian's latest developments in super-wide rotor geometry, provide the highest volume-to-surface ratio of any rotary engine ever made.
GEARBOX – DESIGNED AND BUILD BY "NOVA TRANSMISSIONS LTD."
The CR700W bespoke transmission system incorporates a quick removal cassette, dog-ring, super-finished, gear cluster with increased width for extra durability. This is coupled with a slipper clutch.
The primary drive also includes an idler gear which reverses the engine rotation to help hold the front wheel on the track under acceleration and cornering.
THE CHASSIS 
The classic Spondon-derived chassis has a single shock rear swing-arm fabricated from 7000 series aluminium alloy, triple section custom extrusions.
The head-stock angle and rear swing-arm pivot-points are fully adjustable for individual rider preference and racetrack tuning.
The engine oil resevoir is incorporated into the main spars for extra weight reduction and the front fork triple clamps are available with different offsets to suit rider preference.
The chassis is equipped with Dymag carbon fibre wheels, Ohlins or Bitubu front forks and rear shock absorber, and Brembo's Superbike monobloc spec front and rear calipers.
UNIQUE, LIGHT WEIGHT AIR COOLING SYSTEM
The innovative air cooling system derived from racing has titanium and inconel exhaust ejector system, which utilises the rotaries' exhaust system to generate a high energy vacuum through the core of the engine.
This vacuum accelerates a continuous flow of air through the finned apex of each rotor tip.
This unique system is incredibly light weight, requires zero moving parts, extracts zero energy from the engine drive shaft and it is 100% reliable.
WATER COOLING SYSTEM FEATURING INTERNAL COOLOING CHANNEL 
The CR700W's engine features an internal cooling channel, spark eroded into the core of the main rotor bearing journals.
These channels are then liquid cooled via a fully integrated shaft-driven, inline coolant pump.
The intense heat generated at the heart of the engine is rejected efficiently into the cooling system, literally from the inside out.
Brian Crighton:
"In so many ways the CR700W is the culmination of my career's achievements. Developed with my excellent lead engineer, Shamoon Qurashi, it encapsulates the absolute best of my engineering wisdom. And I believe the result is the ultimate track and racing motorcycle."
Mason Law, test rider and former British Superstock 600 champion:
"Riding the Crighton was a phenomenal experience. The raw speed of the motorcycle was mind-blowing. I felt like I was propelling down the runway of an aircraft carrier in an F-35 jet. This raw speed coupled with its lightweight means it has the power-to-weight ratio of a modern MotoGP bike with buckets of torque. It's definitely smile-inducing."
Alex Head, CEO of Rotron Power Ltd:
"The CR700W is a unique motorcycling masterpiece and a true work of art, born out of Brian's passion and genius when it comes to creating extraordinary engines and race bikes. It is more powerful per cc than any other normally aspirated engine in the world, with a greater power-to-weight ratio than the Aprilia RSV4, or even the supercharged Kawasaki H2R."The performance speaks for itself, yet despite the numbers it is far from a highly-stressed racing engine that needs rebuilding after every race weekend, and instead, thanks to its low-revving design, ultra-low friction materials and unique internal geometry, it is resoundingly robust and reliable, and will run a full season before requiring internal inspection. There are few machines as exclusive, with performance and uniqueness to match."
CRIGHTON CR700W TECHNICAL SPECIFICATIONS 
ENGINE
Engine Type

Twin rotor fuel injected four-stroke rotary (aluminium block)

Engine Displacement
690cc (total maximum combustion chamber capacity)

Max. Power Output
220hp @ 10,500rpm

Max. Torque
105ft/lbs @ 9,500rpm

Fuel Consumption
0.54 – 0.65lbs/hp/hr

Electric Start
Bespoke high power DC brushless starter motor (option available)
CHASSIS, DIMENSIONS & WEIGHT
Length x Width (fairing) x Height

2040mm x 470mm x 1151mm  (80.3in x 18.5in x 45.3in)

Seat Height
810mm (32in)

Wheelbase
1440mm adjustable (56.7in)

Dry Weight
129.5kg
WHEELS, SUSPENSION & BRAKES
Brakes (Front/Rear)
Brembo Superbike monobloc spec calipers

Tyres (Front/Rear)
Michelin Superbike spec slicks

Suspension Front
Ohlins or Bitubo Superbike spec

Suspensions Rear
Ohlins or Bitubo special long-stroke unit