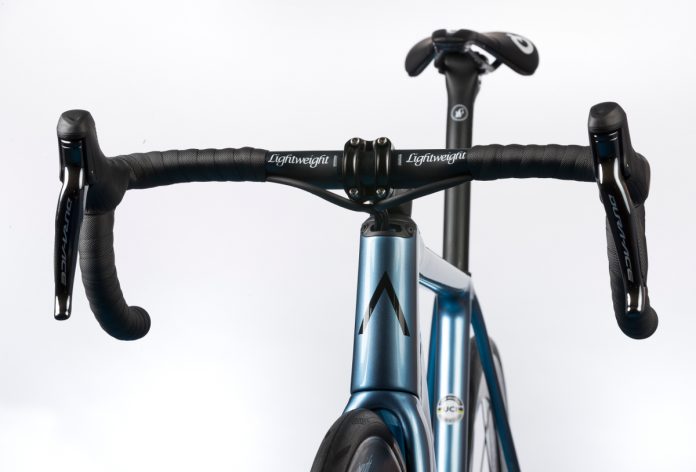 Branded Aurum (latin word for gold), new bike company established by two former pro-cyclist Alberto Contador and Ivan Basso, has revealed their first model Magma. Magma is high-end all round road racing bike, imagined and tailored by Contador and Basso liking, with qualities and specifications needed to compete in Grand Tours and their distinct individual stages.  
To be the ultimate road racing bike Magma is designed like balancing act between different riding characteristics. Magma's moto "born from experience" means that this bike is coming on the market to be the best performer on any road terrain, weather conditions or route profile.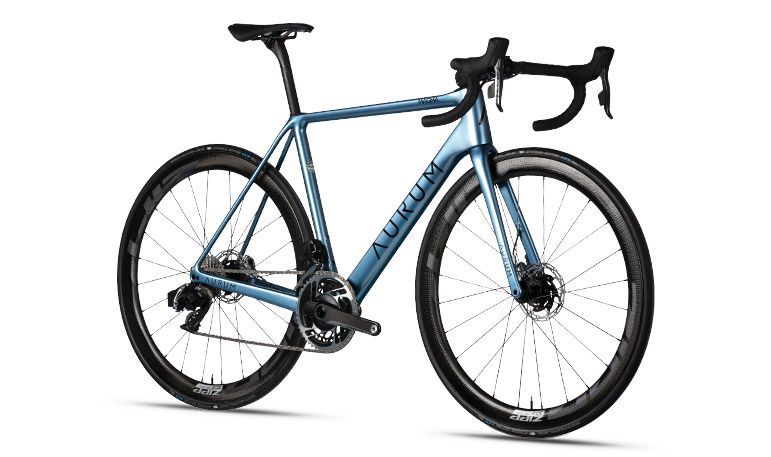 Giving great balance between being comfortable enough on long rides and stiff while pedaling off saddle while climbing, Magma is light, agile, with responsive front end on cornering, fast and stable on descents. Attentive design process was carried in order to keep these balanced performance for all frame size range.
The most important frame characteristics – stiffness, comfort, aerodynamics and weight are incorporated and engineered with design of the Magma's frame geometry. It is crucial bike frame to be stiff in the right places, so Magma frame is designed with high lateral stiffness at the bottom bracket area, and high torsional stiffness in the head tube and down tube sections.
For best performance over a long ride frame flexibility is crucial, and stack and reach should help with out and out performance, yet giving comfort. For increased stiffness, the lower end of the seat tube tapers out and blends smoothly into the bottom bracket, while the upper part of the seat tube is round and thinner which brings some comfort. In addition to ride comfort, tall and thin seat stays flex to absorb the road.
For Magma aero efficiency, Aurum engineering team used CFD software to carefully shape the aero profile for headtube, downtube and fork legs. Later, Magma's prototypes were tested in the wind tunnel so that accuracy of CFD shapes being checked.  An interesting aero-efficient design feature of Magma is the "Head Tunnel". Located in the head tube, subtly channels the brake lines (and electric wire) into the frame. This design allows using standard and lighter headset, stem and handlebars. Proportioned individually for each frame size, airfoil downtube is connecting the headtube and wide bottom bracket for maximum torsional stiffness.
Even though achieving low weight will always be important with road racing bikes, it was not the main focus on Magma development. Magma frame is still very light (805 grams- size 54), but it keeps overall riding characteristics and not losing structural strength, riding comfort or aero optimized shapes.
Every Magma is handmade, and during production for separate sections of the frame different grades of carbon fiber is selected. Called Experience Carbon Technology (EST), it gives the bike efficient carbon layup with minimal material overlap and waste. Latex-covered foam is used for material compunction and resin flow, with this the inside of Magma frame is free from crumples or mold residue.
Magma is coming in stealthy matte Carbon Black and elegant Glacial Blue finish. Carrying understated aesthetics Magma is beautiful bike in a very subtle way, with every feature purposely integrated. Light, stiff and strong, engineered and designed to be the ultimate road racing bike, with price tag for the frame of 4.099 euros.