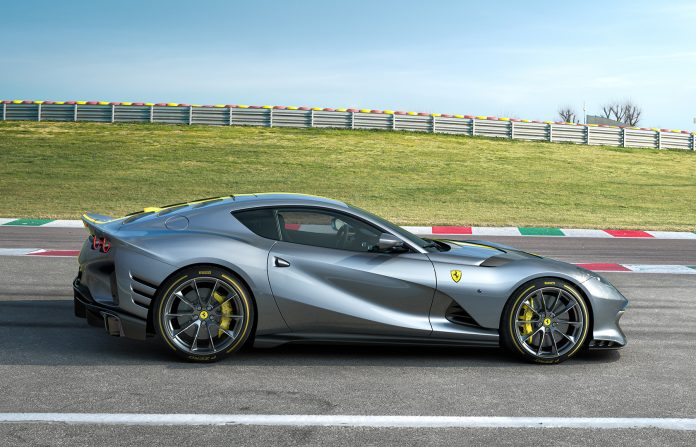 New era GT Sportscar with high-tech solutions, powered by V12 combustion engine sounds as a strange technical combination. And that's exactly what Ferrari have done with their newest masterpiece 812 Competizione, unleashing V12 might from combustion engine through new era tech solutions.
ENGINE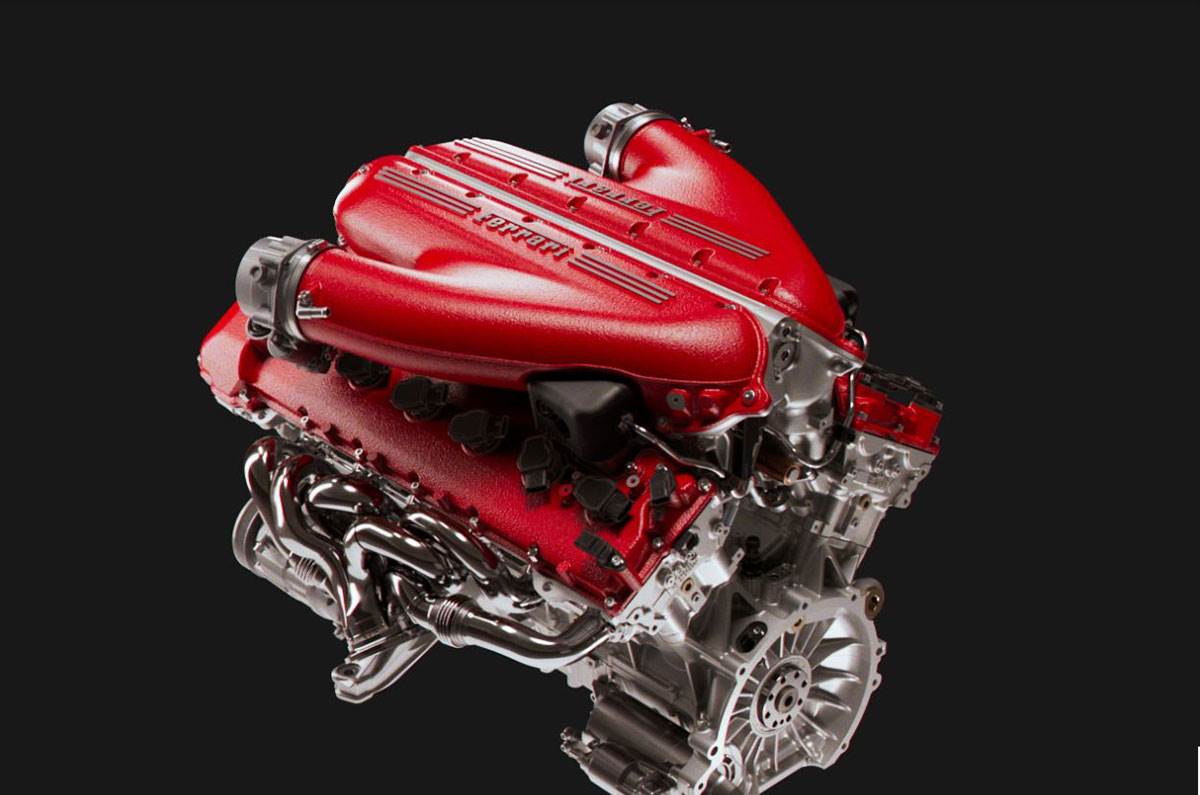 Internal combustion engines might be at their last evolutions and development push, but Ferrari did an elegant job by extending the life of their legendary V12 engine. They kept a touch of tradition by going this route and further more they implemented new technologies used by their F1 race-track experience to refine and increase the power output. This will be Ferrari's highest revving road car engine to date, with power peaking 830cv at 9.500 rpm.
New solutions and redesign on engine components are backed by using high-tech materials, new valve timing mechanism and new exhaust system. To add on performance gains effort is made on the power unit internals and materials used for their craft. These gains on weight reductions came from the use of titanium con-rods coupled with lighter crankshaft and 12v lithium-ion battery.
Now lets talk how Ferrari Formula 1 experience is implemented to better this legendary engine. According to Ferrari the most significant improvements are to the distribution and cylinder heads. The cams that feature diamond-like carbon coating (DLC), action the valve stems via steel sliding finger followers (F1 tech solution). Another F1 gem is system of variable geometry inlet tracts, through which the torque curve is optimized at all engine speeds. This enables the length of the intake tract assembly to be continuously modified, adapting it to the firing order to maximize the dynamic charge in the cylinder. All this engine power is transferred through seven speed dual-clutch gearbox.
Particularly proud of their engine sound, Ferrari have made huge effort to come with unmistakable sound. New exhaust tailpipes deliver aesthetics, performance and acoustic high level. Then there is second pair of resonators to meld the sound from exhaust and intake system.
AERO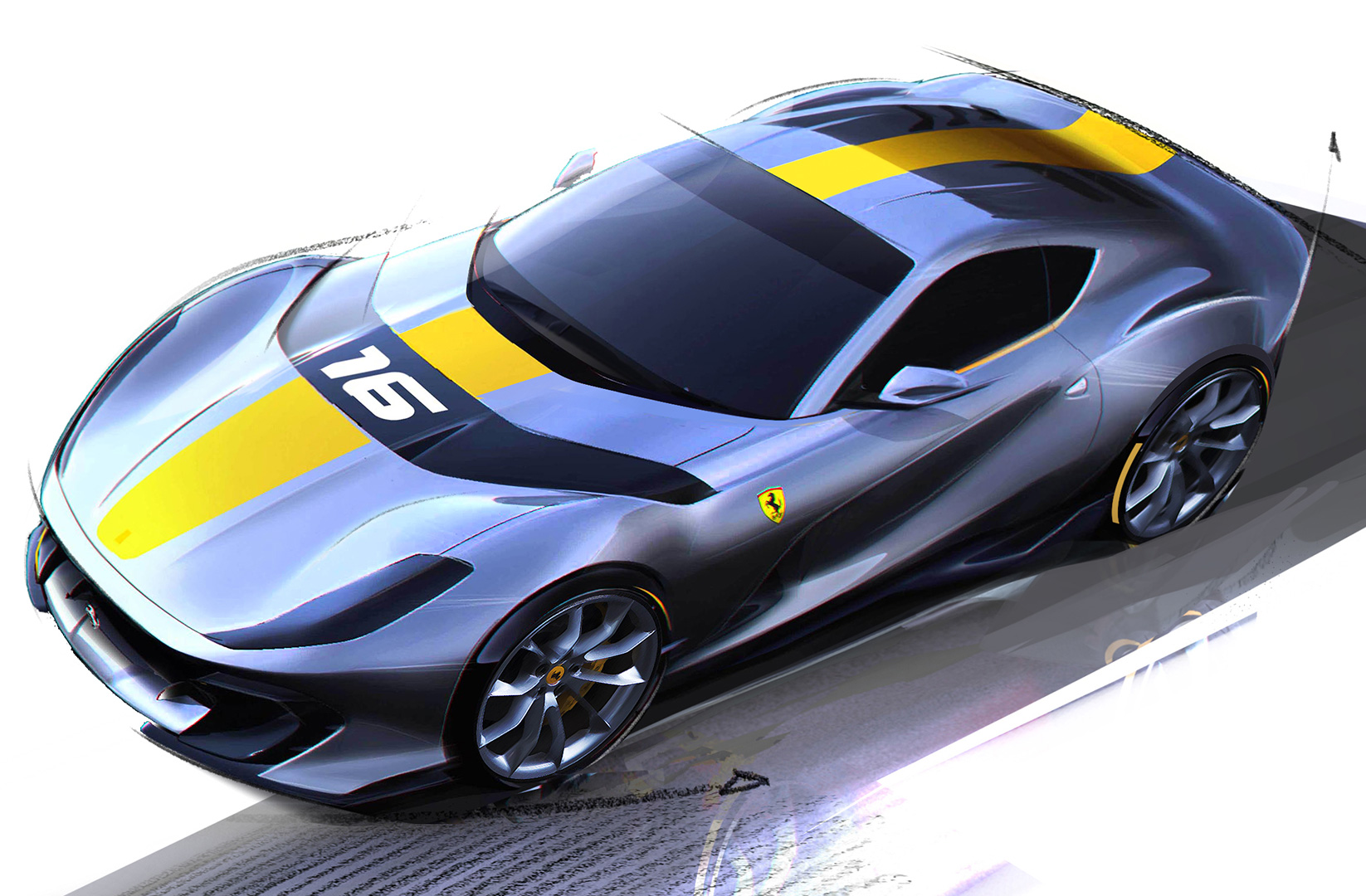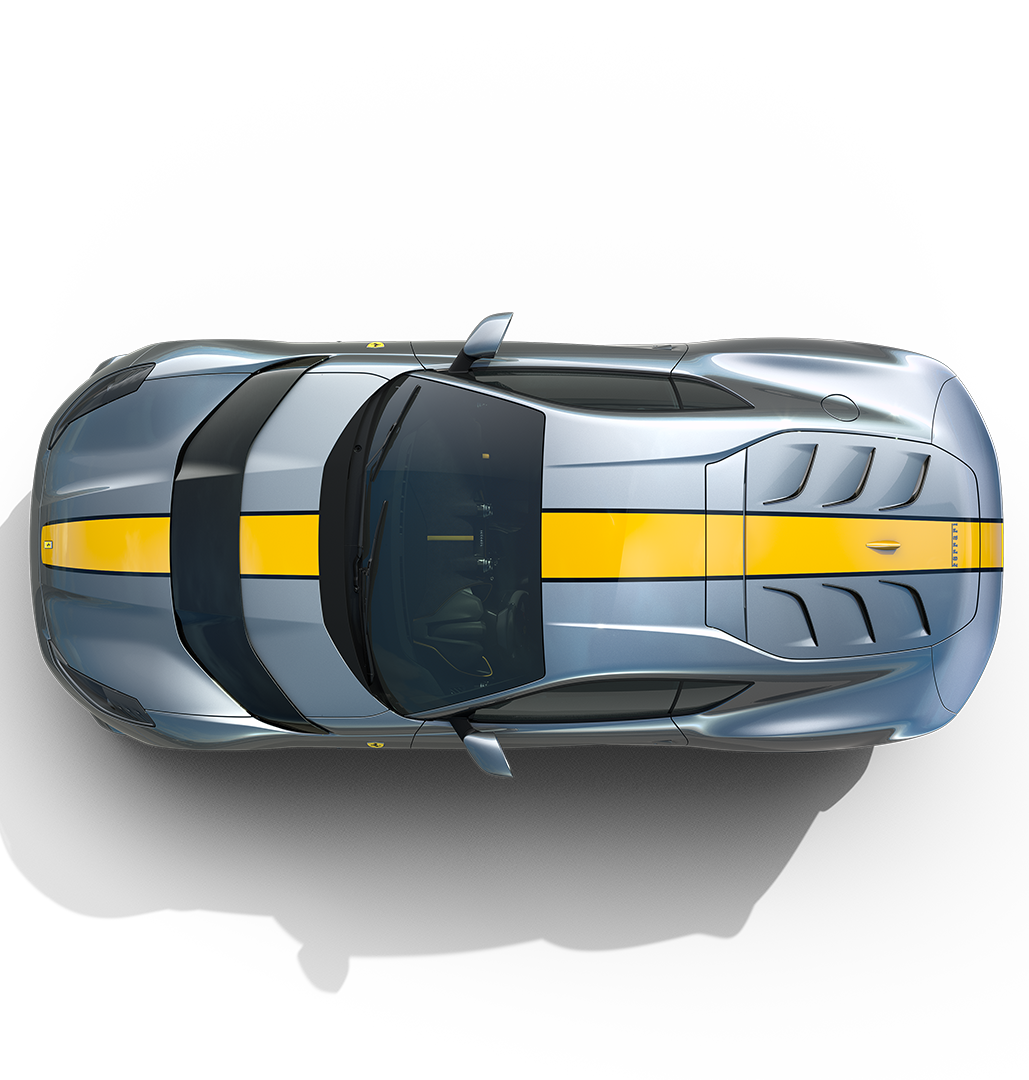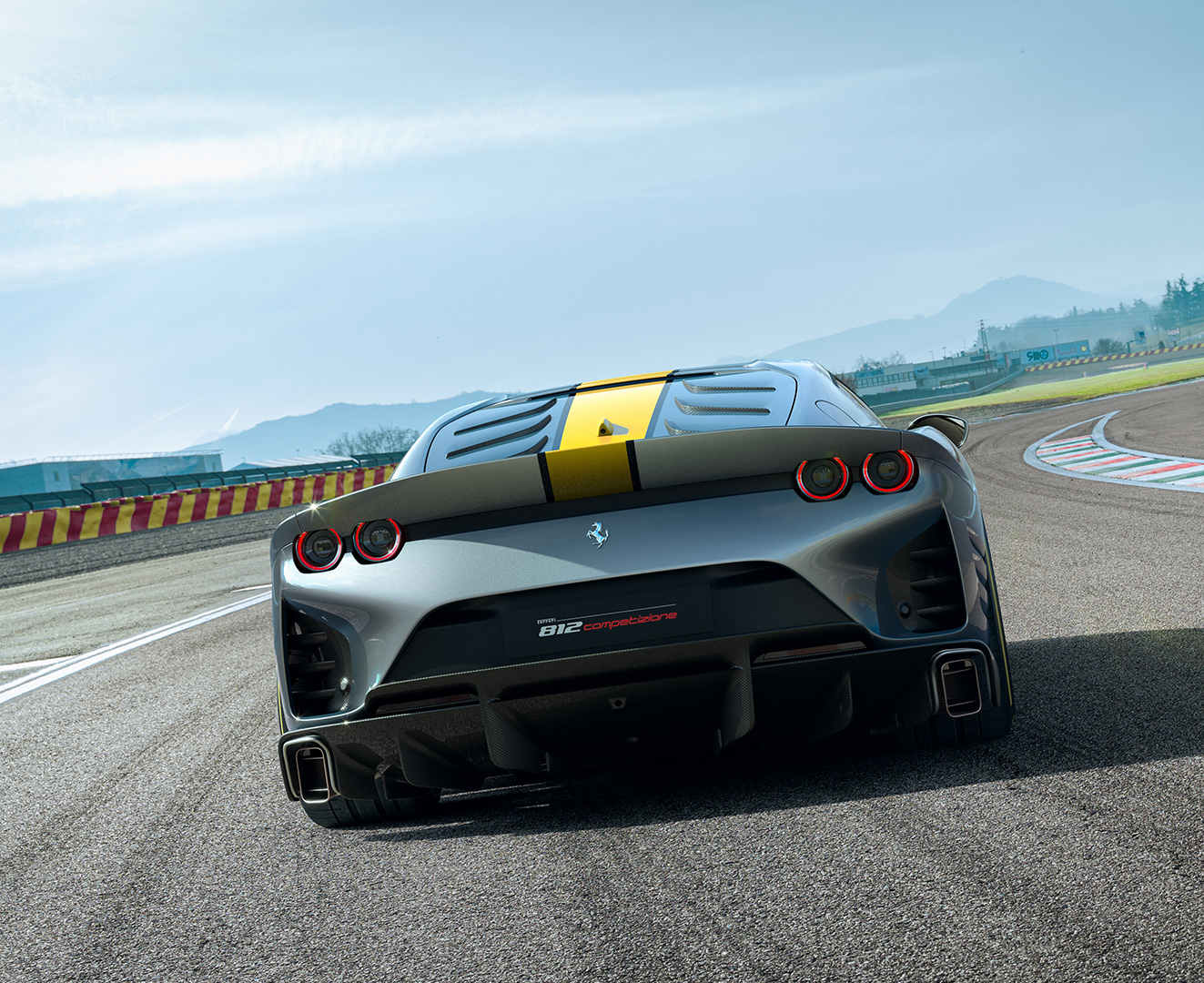 Even though at first glance Competizione gives familiar Ferrari looks, the muscular body contains many clever and innovative solutions throughout the whole body shape.
Starting from the front of the car the extreme and efficient aero solutions are everywhere. Engine air intake (wide front grille) works as a integrated solution with the bonnet on the hood (carbon blade), helping with the evacuation of the hot air coming from the radiator.
Integral part of the front aero is the redesigned brake cooling concept. Openings on either side of the bumpers are capturing cool air which is then distributed as a air-flow inside brake calipers through air intakes integrated inside brake castings.
The most striking sight and solution appears to be the completely closed rear screen. On top of it, the rear screen has three pairs of aero profiled element acting as a vortex generators. The vortexes created will redistribute rear axle pressure field, and part of the flow is deflected towards the sides of the formidable rear spoiler, which boosts downforce creation.
Rear of the car ends with striking diffuser and two exhaust pipes on either side.
VEHICLE DYNAMIC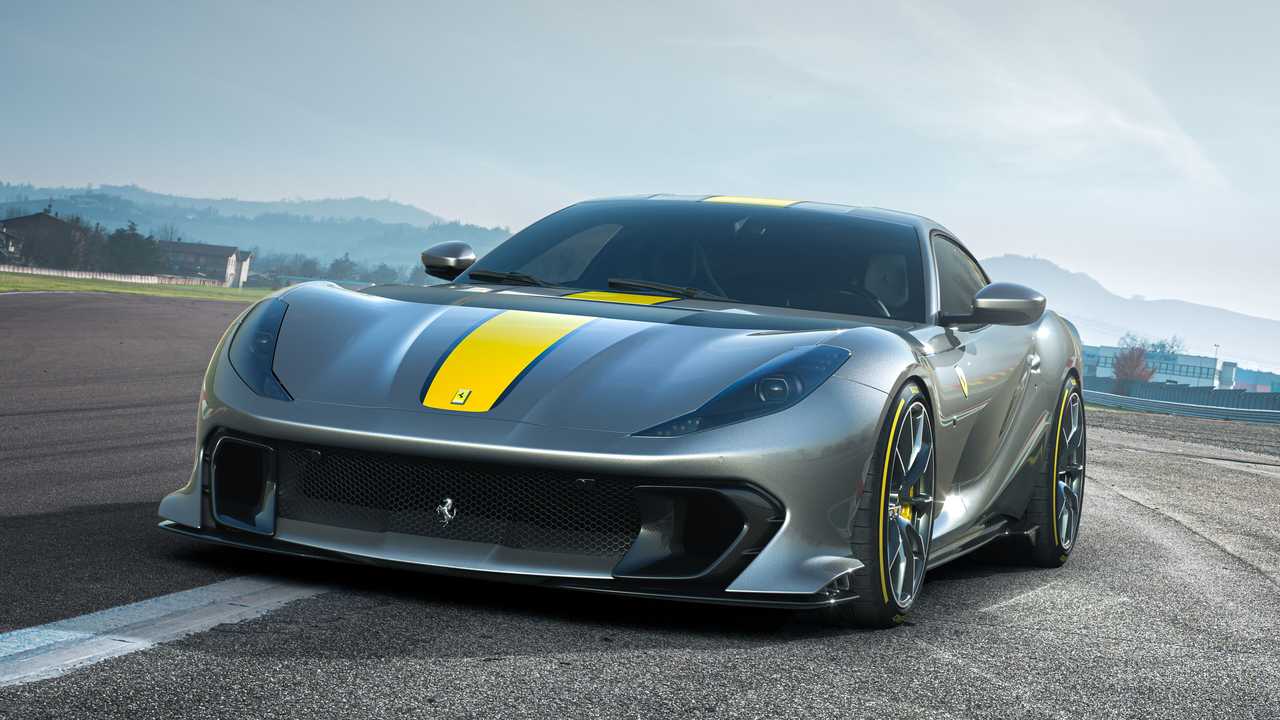 Carbon fibre is extensively used on the exterior elements of the car to reduce the weight. There are some pioneering solutions for easier car control and to put to use huge engine power. Enter the independent steering on all four wheels. This pioneering solution helps the car agility and precision, which is paired with renowned latest version of Side Slip Control vehicle dynamic system.
Behind the independent rear-wheel steering there is new electronic management system that enables right and left actuators to be actioned individually. This system emphasizes the front axle response to steering wheel command and maintains the feeling of grip from the rear axle.
INTERIOR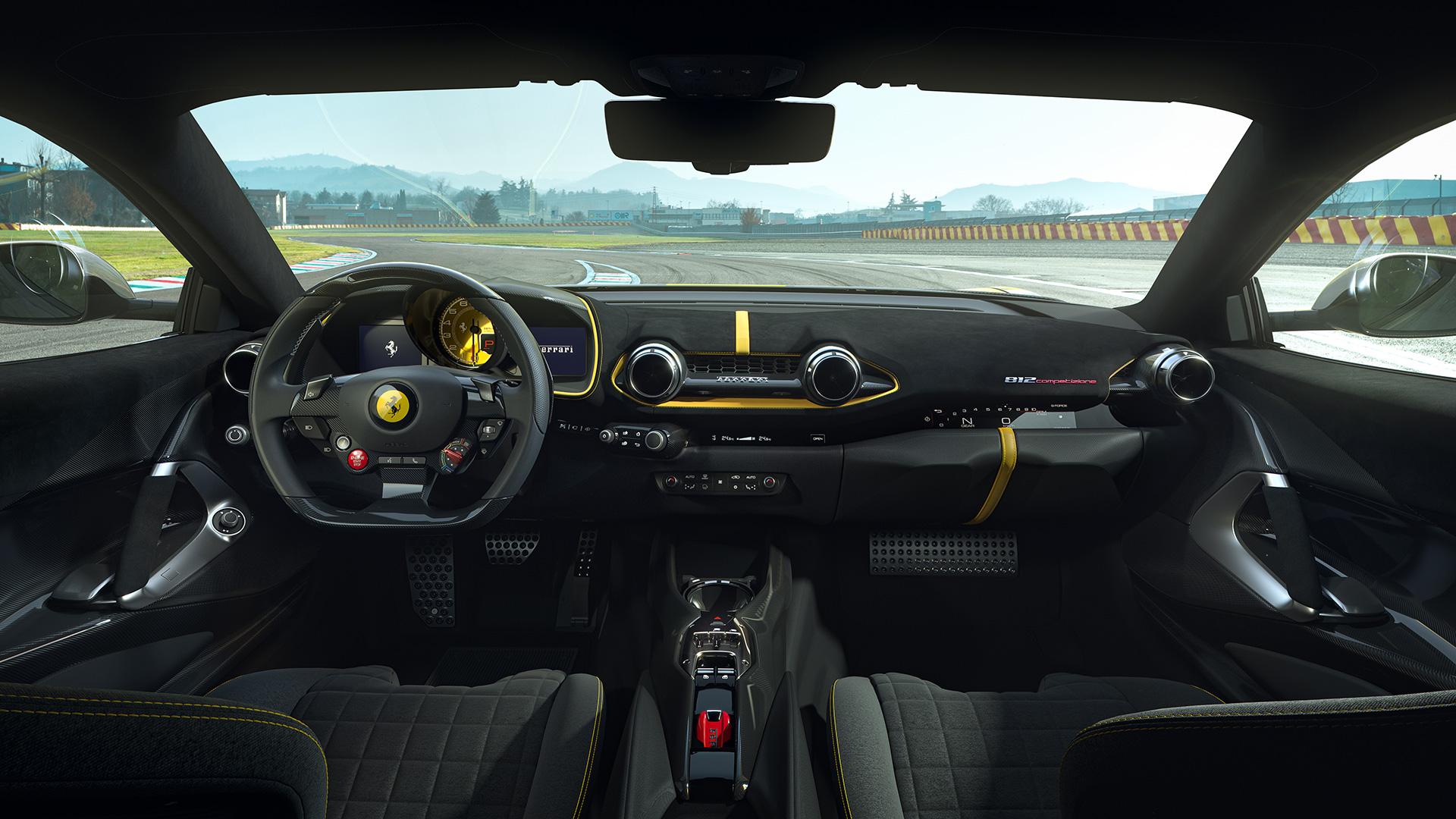 The interior architecture shows the cars racing spirit. The attention for weight reduction by using light materials is underscored with modern and sporty cockpit design.
TECH SPECS
max speed – 340 km/h
0-100 km/h – 2.85 sec
0-200 km/h – 7.5 sec
engine – V12, 6496 cc
max power – 830 cv at 9250 rpm
max torque – 692 Nm at 7000 rpm
max engine speed 9500 rpm
bore and stroke – 94 x 78 mm
compression ration – 13.5 ; 1
gearbox/clutch – F1 DCT 7 speed/dual clutch
dimensions- 4.696 mm length ; 1.971 mm width ; 1.267 mm height
wheel base 2720 mm
dry weight/power – 1.79 kg/cv
weight distribution – 49% / 51% front/rear
GALLERY